Breaking The Bias: Meet The Women Of FedEx
From FedEx frontliners to aviation security to pilots, women are making a difference across the organization and challenging biases around women in logistics.
For decades, logistics, like many industries, has been male dominated. Challenges continue to exist, but we're witnessing a rise in the number of women joining the sector. Women made up
39% of the supply chain workforce in 2020, with this increasing to 41% in 2021
.
Unlike other sectors, the need for supply chains to stay open during the global pandemic outbreak was mission critical. Intensified by the explosion of e-commerce as many companies and their customers moved online, this meant the sector needed to ramp up the workforce to meet demand. As a result, women's representation in the industry accelerated.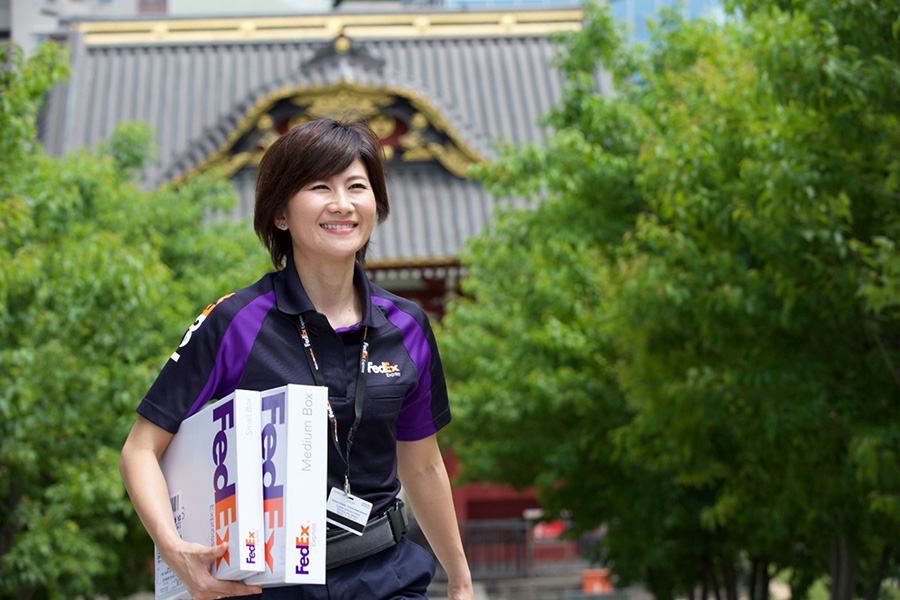 A new generation of females is just starting out, joining FedEx on the ground as couriers and frontliners, flying planes, driving vans and delivering packages every day in addition to the
women who have built careers spanning decades
.
For International Women's Day 2022, we asked women in FedEx across the Asia Pacific, the Middle East and Africa region what they are most proud of in their roles, and how they are striving to break the bias at work and in society. Check out their inspiring stories below!
A pilot with a view from the top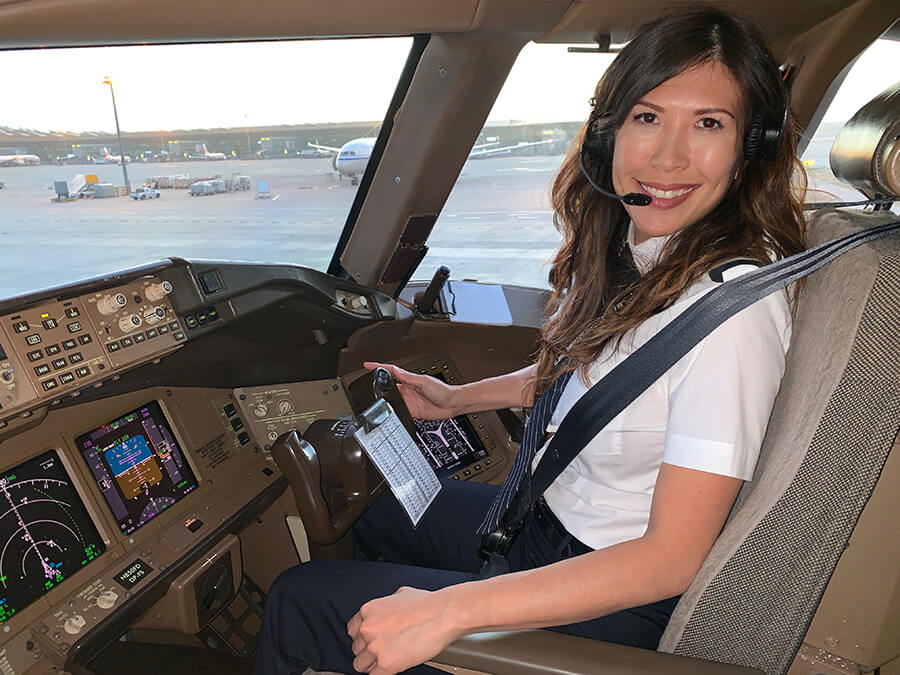 Becoming a pilot takes a great deal of determination – it's not something that happens overnight. First Officer and Pilot Stefanie Lee recalls that it wasn't always easy. At the same time as climbing the career ladder, Stefanie was also trying to balance being a mother.

"In my career, I faced a number of challenges from those who thought I couldn't be a single mother and still fly. I pushed through those barriers - and am happy to say I've now been flying for 19 years, seven of those with FedEx and the military."

While Stefanie acknowledges gender and other biases may exist, she feels proud to work for FedEx, flying 777s.

"FedEx values and respects the contribution of all employees - including women - in the field of aviation."

Her advice to women who'd like to follow in her footsteps?

"Let your performance speak for itself. It's the best way to combat biases anyone may have. Be your best self. Treat people with dignity and respect."

Confounding a popular bias: women working in security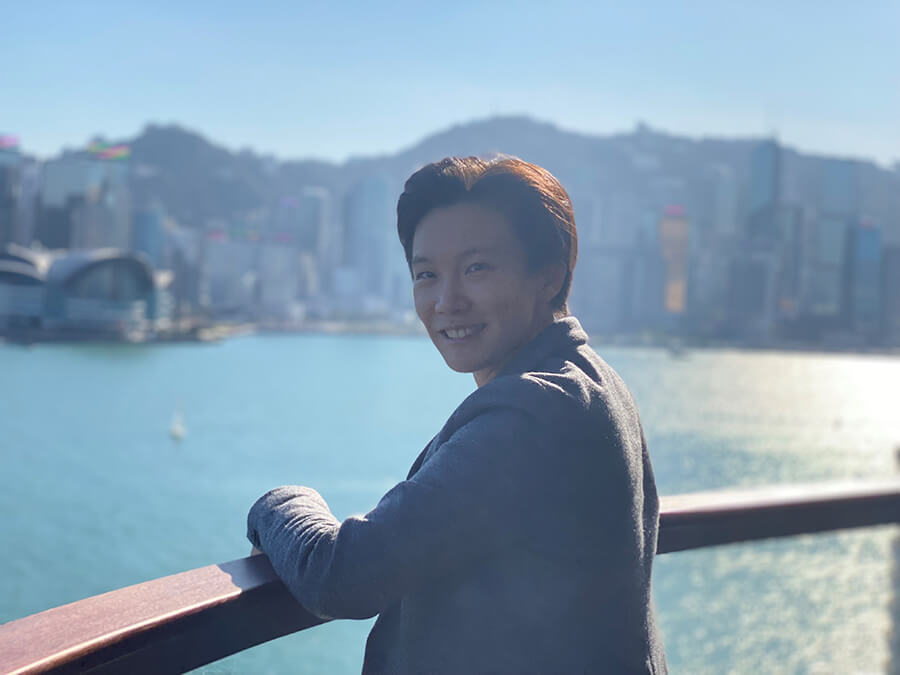 As an Aviation Security Advisor, Edith Wan acknowledges that working in security isn't necessarily the most popular career choice for women.

"When I started my career, I was told two things. The first: women aren't supposed to work in security. The second: Management stands for "Man-age-ment – which means that older men get to make all the decisions."

Rather than setting Edith back, these challenges became the catalyst that motivated her to push forth and grow in her career.

"To break the bias, I seize every opportunity and take on challenges to learn, explore and experience new things. I believe that everyone has their own uniqueness and strength. It's essential that we develop and nurture our ability and potential, regardless of gender."

Operating forklifts and driving 40ft trucks – all in a day's work for our female couriers in Malaysia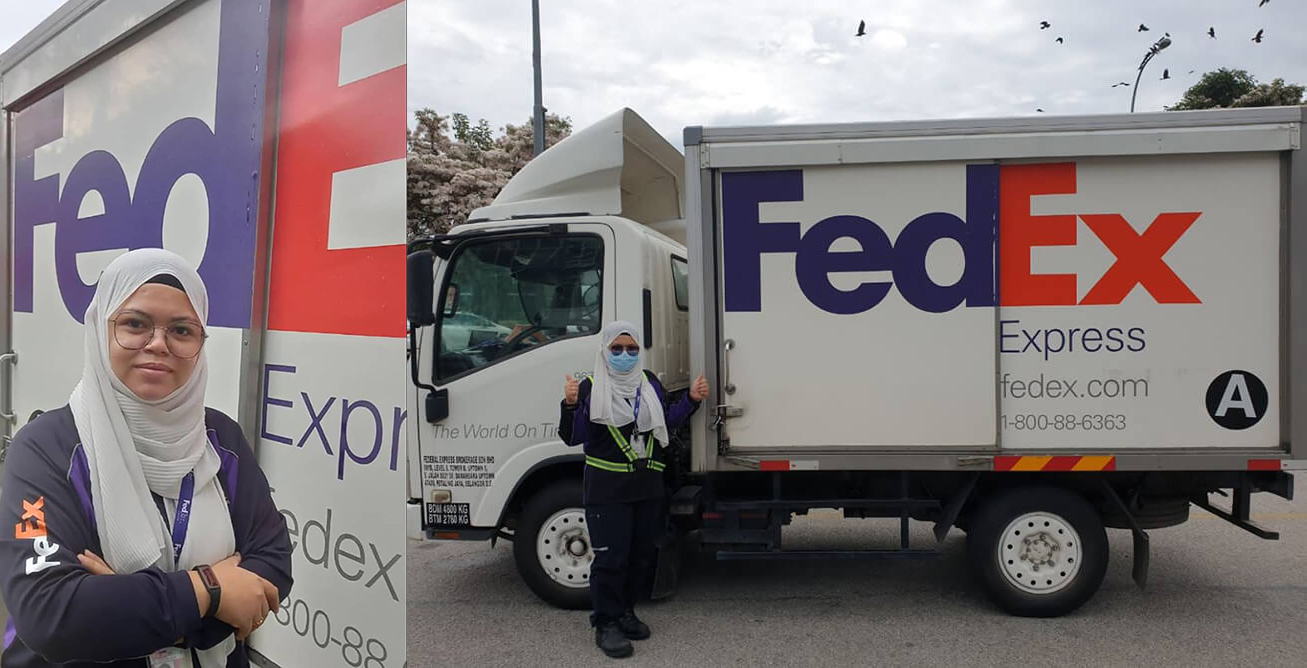 Noraini Abdullah joined FedEx as a delivery driver about 4 months ago, in charge of driving 1-ton trucks. If there were any doubts about her abilities to take on the job, they didn't last long.

"My previous work experience? As a long-haul 40-footer truck driver."

Noraini believes that in Malaysia, there is a certain perception or stereotype that exists for jobs such as couriers.

"It's seen as a male role. But for me, gender matters far less than things like people skills. I like my job as I'm able to interact with different types of people both internal and external."

Nurul Jannah, also from Malaysia, joined FedEx in 2016 as a motorbike courier. After one year, she was re-assigned and given the opportunity to learn how to drive and operate a forklift as part of her role.

Her next goal?

"I plan to be the first female driver for the FedEx Asia Road Network's 40-footer trucks!"

Nurul is also keen to encourage other women to take the leap if they are interested in the logistics industry.

"If I can do it, why can't others? As women, we must be driven to achieve what we want in our life and prove to others that we can do it if we work hard."

Female delivery drivers making waves in Japan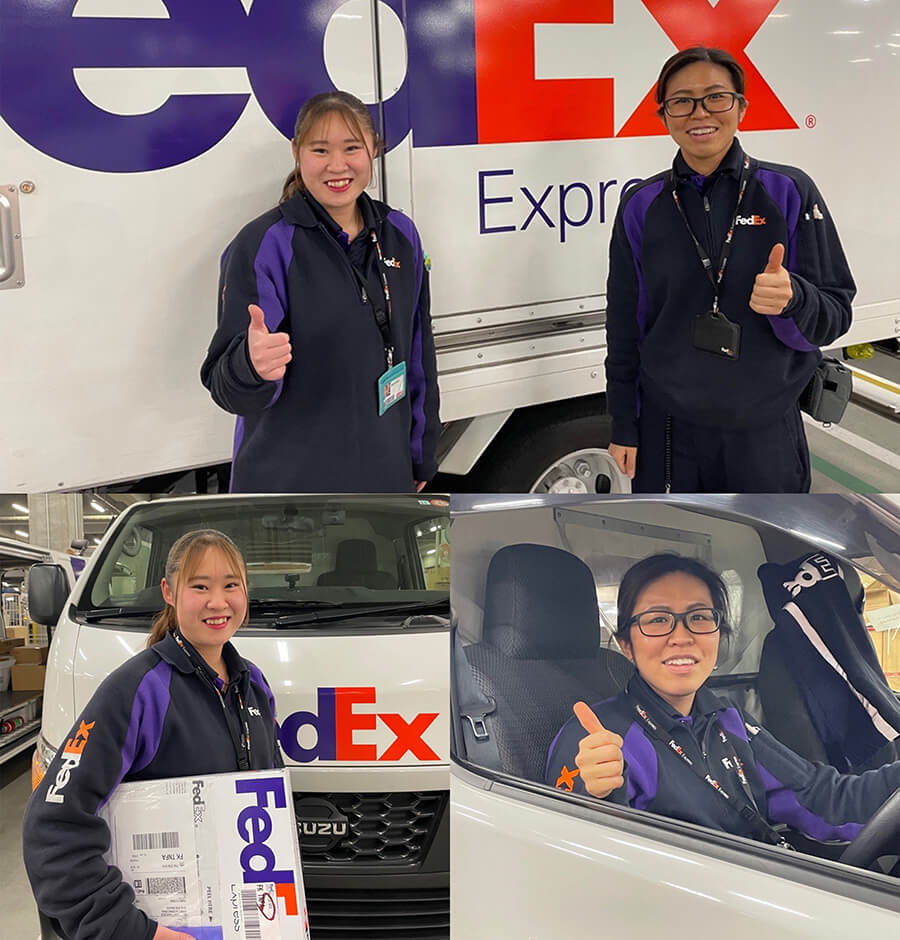 Seira (left) Ayaka (right)
Seira Otsubo wasn't sure right away if a courier job was for her, but soon found the environment to be surprisingly accommodating for all genders.
"There's no such thing as 'You can't do this job because you are a woman'."
Ayaka Maruuchi was initially surprised when she arrived at work on her first day. It hadn't actually crossed her mind that her co-workers would all be men. But she loves the welcoming environment.
"Handling heavy packages is a challenge for anyone, but we always support and help each other. I believe that both men and women have a duty to be active in building a culture of gender equality."
On the frontline in Shanghai – through a global pandemic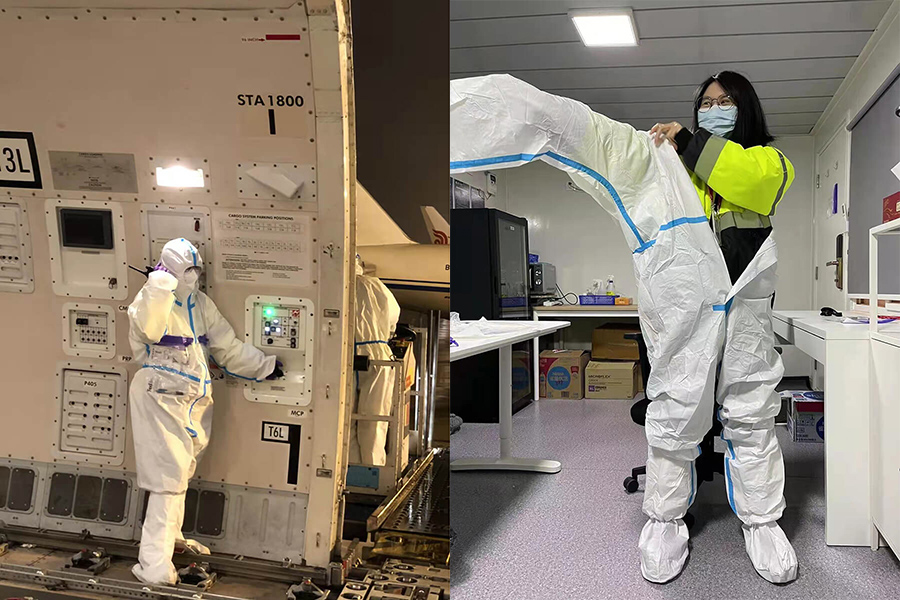 Daphne Xue Hai-Yan, Senior Ramp Agent, has been working at the FedEx Shanghai Gateway for six years. The outbreak of COVID-19 changed everything. Reporting for duty every day in a special PPE uniform, she was able to witness first-hand the crucial - in many cases - life-saving function of supply-chains and key workers in keeping logistics networks open for essential goods, medicines and more.
"Right now, I have just one female colleague on my team. It makes no difference being a woman here - everyone is helpful and friendly. Being a Ramp Agent involves working with huge containers – so it might look tough for a woman. But actually, I find it very interesting."
Daphne enjoys daily challenges that are fundamental to keeping the supply chain moving efficiently and safely. These include finding the best loading plan to maintain the aeroplane's center of gravity and ensuring flights can depart on time. Her advice to women who might consider the same line of work?
"Take charge of your career and explore any opportunities that come your way."
Creating future possibilities for females in logistics
Experiencing some of these women's stories first-hand proves that – from flying planes to loading cargo – there are so many roles women can excel at in the logistics industry.
The journey for women to achieve gender equality in every aspect of the workplace is not quite there. For example, the same Gartner report showing an increase in women in the supply chain also flagged that women in executive roles actually decreased from 17% to 15% in 2021. It's up to all of us to give women the support, flexibility and opportunities they need to continue to succeed.
For more stories on diversity, equality and female entrepreneurship, keep an eye on the
latest stories from our website here
.
Related Posts
Female Entrepreneurs Are Unleashing Innovation In China

How Female Entrepreneurs Can Overcome The 'She-cession'

Following In My Mother's Footsteps At FedEx