It's The Choices We Make Every Day That Take The World Forward
FedEx has transformed how the world moves and connects every corner of commerce and community. Kawal Preet shares how the logistics industry has evolved, and how technology is opening doors for women. Whether it's greater gender equity in tech and STEM or opportunities for mentorship and training, it continues to create new possibilities each day.
Modern workplaces have a key responsibility in challenging gender stereotypes. Having a progressive mindset and leading by example through inclusive behaviors are necessary to fight gender bias.
Kawal Preet, President of Asia Pacific, Middle East and Africa at FedEx Express, shares valuable insights from her leadership experiences and how technology continues to foster a more diverse and equitable workforce.
Q: Can you tell me about your engineering background and how it has shaped you?
My dad is a Civil Engineer, and my mum has a Masters in Zoology, so the science pathway was something that I found myself instinctively attracted to. By the time I finished high school, I found myself in college studying electrical engineering. One way engineering has shaped me is that I really enjoy solving complex problems. I'm constantly thinking through structures and looking for patterns in the puzzle. I've always been the kind of person who considers how things connect. And this mindset fits really well with my chosen profession - FedEx is a logistics network that connects the world.
Q: How has your upbringing driven you?
I grew up in India in a city called Bhopal in the 1970s and went to University at Maulana Azad National Institute of Technology, Bhopal in the 1990s. At that time gender stereotypes were very apparent - in my class of 60 pupils I was one of only six girls. In those early days, I rarely had any role models who were women. I would say that although initially my environment limited my imagination, it also helped me find my voice because it really bothered me as to why I was a minority and why I was any different. That experience really shaped me and explains why I am extremely passionate about encouraging women in every way possible. From my son's classmates to people who I interact with at work, I think it's really helpful to see people around you who make you believe that your ambitions are possible.
Q: Do you find it frustrating to be approached as a woman rather than a leader?
Yes, very much so. But that's exactly what I want to change. I think we've made significant progress since I was at school and that's what inspires me. I think it's the choices we make every day that take the world forward. What we choose to believe in and what mindset we start with matters, whether we are at work, at home or at school. I also think sometimes it's our beliefs that limit our progress. It did frustrate me a great deal when I started my first job at an automobile manufacturing plant to be treated with these kid gloves. For example, people asked very tentatively if it were possible for me to do a night shift and questioned when I was going to get married.
Q: What is your experience of being a leader at FedEx?
At FedEx, I've been really fortunate to have female role models around me. If you look at the senior leadership at FedEx, you will see that our team has a range of gender and diversity - it is quite inspiring. I'm also really grateful for the supportive environment at FedEx. There is a culture which we call the "people first" philosophy. That's what differentiates us because it's all about bringing your whole self to work. People are looked after here and given fair treatment with an open-door policy. I have often found myself to be the only woman in a large meeting room. However, our culture of respect and inclusion always allowed me to speak up and express myself freely. I believe everybody should have a voice and feel comfortable at the table. And I am determined to continue creating that path for all the women around me.
Q: What exciting projects are you working on?
If I look at things that excite me, it starts with our purpose. As an organization, FedEx connects people with possibilities. As an engineer, I love the idea of our whole network. For example, we kept commerce flowing when the pandemic struck. But if you look at it, it's all about how we move the world and create the future. So, whether it is the progress we are making on our global goal to achieve carbon-neutral operations by 2040, developing easy to use solutions for small and medium customers or driving digital transformation to make things easier not only for our customers but also for our employees - all these things excite me.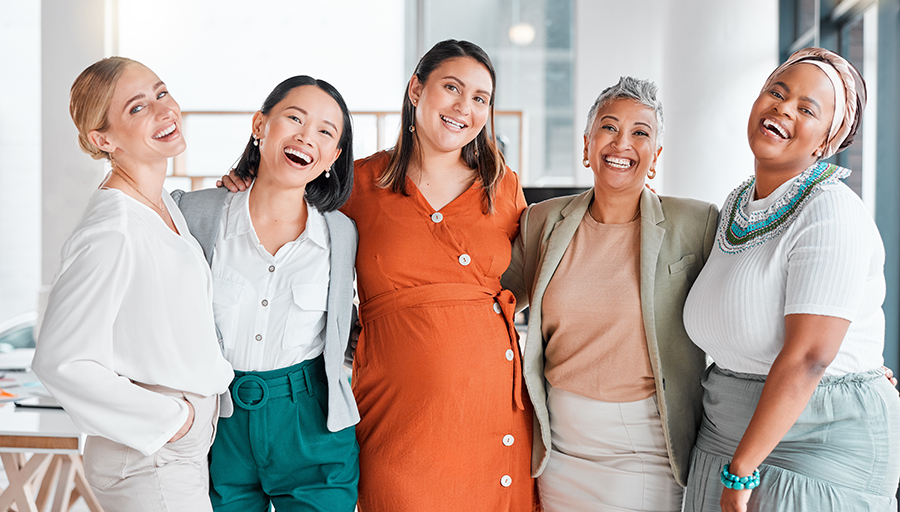 Q: Do you think digital innovation can help bridge the gender equality gap?
That's a great question. If you look back to the pandemic, COVID really brought the world to a halt. We were lucky that a lot of us had access to technology - tools like Teams and Zoom - to keep us connected without being physically face-to-face. And I think this is particularly important for women, because women in general have assumed the responsibility of primary caregivers for our parents and for our kids. Although there is a lot more equality at home, that role can sometimes get in the way of a career.
However, now that the future of work is changing, I think having access to technology, being able to work in a hybrid mode or being able to work in remote roles is something that is helping FedEx access a much broader pool of talent.
The other thing about technology is that it is creating an abundance of opportunities for young people – men and women – to start their own e-commerce businesses. There are so many wonderful examples of what you can achieve from your own home. You don't have to have a brick-and-mortar business anymore to be successful. FedEx has helped companies go global by giving them the tools and support to sell anywhere in the world.
And finally, I think the use of AI, robotics and other new technologies really encourages women to think big and shows them and there are no limits to our dreams. If you think about it, technologies are enabling democratization of opportunity. Data doesn't discriminate. It just tells you what it is. So, from that point of view, I think we are living in a world that has endless opportunities, and all we have to do is go after them.

Q: Can you tell me about the Junior Achievement program you are involved in?
I sit on the board of Junior Achievement Asia Pacific which runs an entrepreneurship competition for high school students. To start with we go into high schools and invite them to join the program. The children are then given the task to solve a global challenge like sustainability or healthcare. FedEx employees then volunteer to mentor these young kids and help them create a startup proposal which they then have to come and present to us. If they win the competition, they can continue to get mentorship and develop their idea in the real world. A lot of kids who go through this competition eventually launch their own businesses, and it has come full circle as some of the young entrepreneurs then come back into the program to inspire the next generation of kids by sharing their success stories. For me, it is such a worthwhile activity and the energy we get from these forums is amazing.
Q: How has the industry changed since you started at FedEx 26 years ago?
Firstly, you see a lot more women in the industry. So, while logistics still does not have a healthy 50/50 balance yet, when I look around, I do see more women than before in areas like marketing, customer experience, sales and analytics. In operations, women are still a minority but we are actively recruiting women and helping them to understand the business. In terms of technology, the industry has changed tremendously and not just in the number of solutions, the ease of use, the customer centricity, and the personalization of solutions, which is a huge change from when I started. This year we are celebrating our 50th anniversary at FedEx and I was at FedEx when we celebrated our 25th. Just looking back at the technological transformation, it is mind boggling remembering the devices we used and how we are improving complex processes and delivering more intelligent supply chains for our customers today through machine learning, artificial intelligence, and other advanced analytical methods.
There are also changes in innovation. When FedEx started 50 years ago, our founder really transformed the industry, or created one per se. Innovation has been in our DNA, and how we have created better solutions for our customers and created a better workplace for our employees. Today, we are making the world a better place by engaging with the global sustainability challenges. And in terms of diversity, equity and inclusion, the industry has taken big strides in terms of access and opportunities.
Q: What's kept you in the industry for so long?
Firstly, it is the energy I derive from being a part of the FedEx story. From where I grew up to when I joined FedEx, my view of the world was very small and I would put all kinds of constraints on my thinking. FedEx has taught me how to dream. I could have never imagined the opportunities that I found myself being able to access by joining this company. I have had nine different roles since I started! Obviously, it has also changed me as an individual by questioning my own self-limiting beliefs. The only way I have been able to grow is by keeping a growth mindset. So many opportunities have been made available to me, but I've had to work for them. And that's what has kept me energized.
What I'm excited about is how FedEx moves the world. It's the motion. Just think about it. 220 countries and territories we serve, and from these there are 100 plus countries and territories in my region alone. Every day something is happening in each of those countries. So just the excitement, the motion, that's what I truly enjoy and what inspires me to come to work every day and feel as if it was day one.
A version of this article appeared in Post & Parcel on May 10, 2023.
Related Posts
Building Equity For Female-Owned Businesses

Why Gender Equity In Tech Matters More Than Ever

Embracing Equity And The Digital Gender Gap