Supporting Thailand's Businesses And Communities For 40+ Years
FedEx has been operating in Thailand for over four decades. It continues to support the growth of Thai businesses into global enterprises and invest in local communities and teams.
As a country famous for tropical beaches, ancient temples and buzzing street food markets, one of the biggest drivers of Thailand's growth over the last two decades has been tourism. While the tourism industry contracted sharply during the pandemic, global travelers have poured back into the country since, helping Thailand's economy to recover.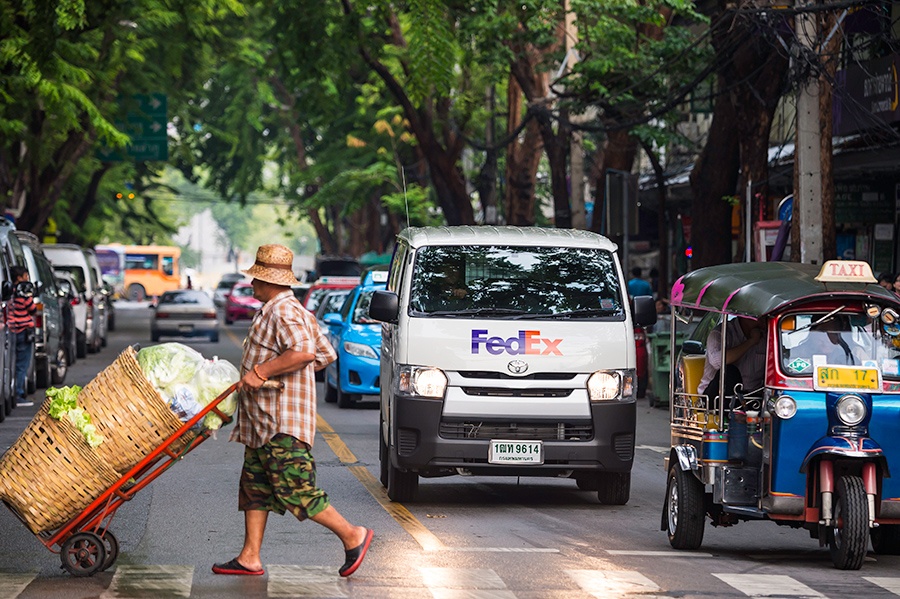 But it's not only tourism that boosts the national economy. The other major growth driver?
As a trade-oriented economy, exports make up 65% of GDP, outweighing tourist dollars by far
. Thailand certainly produces a diverse number of products. At 86% of total shipments, manufacturing goods make up most exports, such as:
Electronics, 14%
Vehicles, 13%
Agricultural goods, especially rice and rubber, 8%
Machinery and equipment, 7.5%
Foodstuffs, such as tapioca and canned pineapple, 7.5%
Other exports include refined petroleum, gold and diamonds
Rich in natural resources and at the forefront of manufacturing in a number of industries, it's no surprise that Thailand has become a key export player for South East Asia and to the world at large.
Welcoming Thai customers since 1983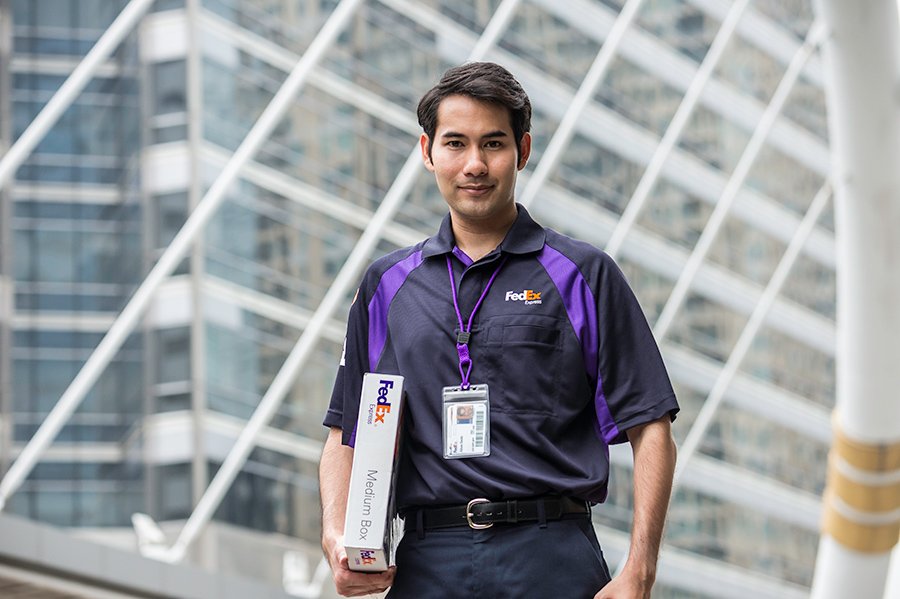 FedEx has been operating in Thailand for four decades, and celebrated an important milestone in 2022 – 40 years of service. During that time, FedEx has empowered SMEs and businesses of all sizes to expand, ship cross-border and forge links in the global trade community.
Since the launch of local operations in 1983, FedEx has tripled in size and grown to more than 400 motorized vehicles, 16 service centers, and 14 stations. It's been an exciting journey, particularly with the recent e-commerce boom, which has seen existing Thai businesses scale up by going online and new players enter the market.
Opportunities for import/export businesses large and small
Thailand's biggest export partners are both Intra-Asia Pacific (China, Japan, Malaysia, Australia and Singapore) and to the United States and European Union. And to fuel the huge manufacturing industry here, Thailand also imports high volumes of manufacturing materials and parts; in 2020, it was the
world's largest importer of steel bars and carbon
.
Enterprising SMEs are also importing niche products that have proved popular elsewhere in the world, introducing them to Thai consumers. Importer and distribution company Make My Day is one such example: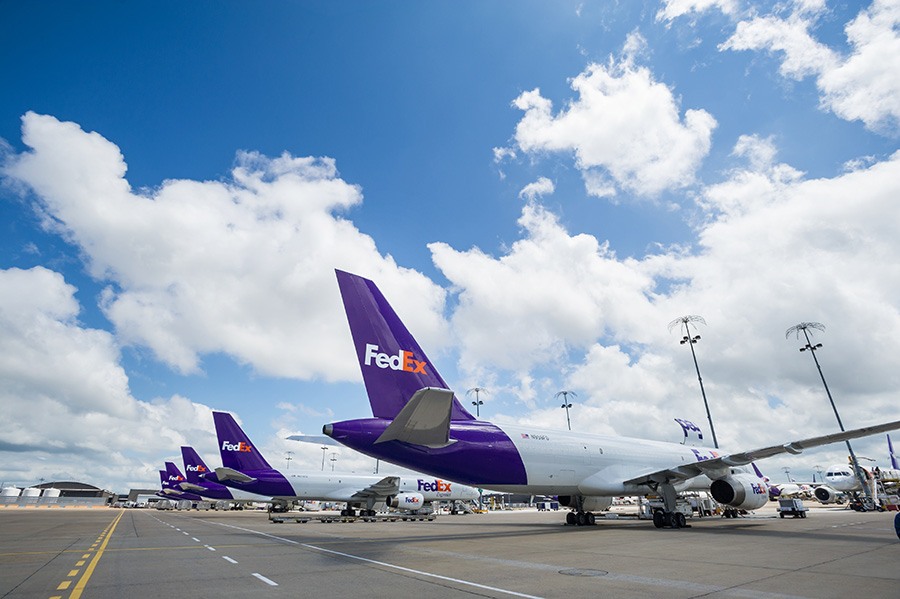 FedEx has also expanded its shipping capacity to support the flow of business from Thailand, with
two new flights to and from Hanoi and Osaka
. This means that businesses looking to expand trade activity in Asia can benefit from additional shipments and shortened transit time.
Thai SMEs can also benefit from the nation's participation in global trade agreements, particularly the world's largest trade deal,
the Regional Comprehensive Economic Partnership (RCEP)
.
The RCEP has already made an impact on trade, with Thai businesses reaping benefits worth
over US$97 million from exports to nine countries
, namely Japan, China, South Korea, Australia, Singapore, New Zealand, Malaysia, Vietnam, and Indonesia. Since RCEP was ratified earlier this year,
Thai exports jumped 200%, with total exports of 1.165 billion
in the first two months.
And due to its abundance of raw materials, cost-effective labor and innovative technologies, Thailand's manufacturing sector is highly competitive and generates a large volume of jobs – making it a viable market to start a business or grow existing ones.
Supporting local communities and prioritizing the environment
Investing in the wellbeing of communities and the bright young minds who will shape the future should always be a priority. As part of its FedEx Cares initiative, FedEx has
collaborated with World Vision Foundation of Thailand
to refurbish Ban Huai Kwang Jing School and build sustainable farms to benefit over 176 students and teachers in Phetchaburi.
In addition, FedEx sponsored the
FedEx AmCham Career camp
, which supports university graduates in preparing for entering the workforce. Volunteers from the FedEx Human Resources team took time to conduct mock-interviews and resume tips.
During the pandemic, FedEx donated electronic resources such as mobile phones, accessories, and educational equipment worth more than THB 278,000 to a remote school in Songkhla, helping ensure online classes for students could continue without disruption.
FedEx also supports the entrepreneurs of tomorrow with its longstanding Junior Achievement International Trade Challenge. It's an Asia-wide youth entrepreneurship education program, and over the years more than 2,249
Thai students have participated from across the country and been awarded in the competition finals
since the program began in 2009.
Besides its welcoming people, Thailand is known for its beautiful beaches. But many might not be aware that there is an estimated 428 kilotons of mismanaged plastic waste per year. On average,
47% of mismanaged waste
that ends up in the rivers is discharged into the sea harming marine life and ecosystems.
For FedEx, protecting the environment and ecosystems we love is just part of the job. One example is how FedEx took action in 'For Sea the Future', conducting a beach plogging activity to pick up litter while jogging. Leading to
removal of 200kg of plastic waste from Napa Tharaphirom beach
in Sattahip district, southeast of Bangkok.
Beyond helping local ecosystems, FedEx also finds innovative ways to reduce waste. By collaborating with recycling expert
SC Grand
, the company has transformed more than 200 old uniforms into fiber, yarn, and fabric to be reproduced into over 700 FedEx caps.
FedEx also
launched its first zero-tailpipe emissions electric vehicles in Thailand
. This is part of the global
EarthSmart Program
to reduce impact on the environment and achieve carbon-neutral operations by 2040. With its focus on reducing, replacing, and revolutionizing both in the skies and on the ground, FedEx is continually looking for ways to innovate and optimize its fleet.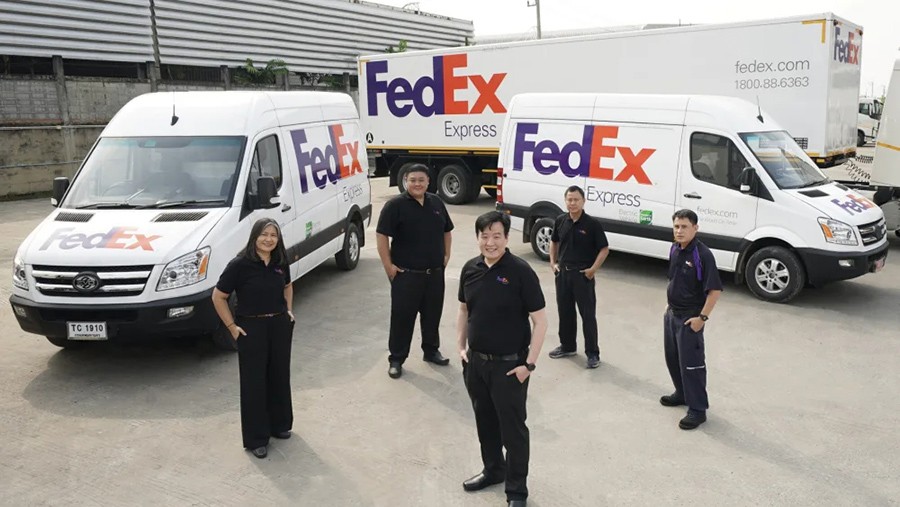 Championing people and making lasting impacts
People are front and center of each community, which is why FedEx is proud to have been recognized for its culture of diversity, safety and equality as one of the "Best Companies to Work For in Asia 2022, by HR Asia.
At FedEx Thailand, women represent 52% of management
, and 97% of managers have risen through the ranks and an average tenure of 16 years.
The company was also
awarded the AmCham Corporate Social Responsibility Award
for the 12
th
consecutive year in 2022 and was recognized with the Platinum level status, which is presented to companies who have achieved CSR Excellence for 10 consecutive years.
Looking ahead on how to best support customers and businesses, FedEx is working to strengthen its operations and footprint in this important market. Fulfilling its long-term commitment to Thailand doesn't end with helping businesses and SMEs to grow their cross-border trade. It's also through job creation, infrastructure investment, uplifting communities where team members live and work, and fostering initiatives toward a more sustainable future.
For more news and business insights,
visit our FedEx Business Insights page
.
Related Posts
When Businesses Are Born Global

The RCEP Will Help Vietnamese SMEs Go Global

Opening India's Economy, Digitally
Savvy Shipping
Tips To Help Build
Your Business

VISIT OUR SMALL
BUSINESS CENTER