Urban Living: Building Smart, Sustainable Cities of Tomorrow
A smart and sustainable future means building the cities of tomorrow – today. We explore some of the most future-forward cities in Asia, the Middle East and Africa.
No greater challenge lies ahead than making our world more sustainable.
Smart and sustainable cities represent the future of urban development across the world. Right now, more than half of the global population lives in a city and, by 2050,
it's estimated that this will increase to 80%
. This means an additional 2.5 billion people migrating to urban areas, with the majority taking place in Africa and Asia. According to the UN, urban growth will be most pronounced in China, India and Nigeria.
Africa is expected to double its population by 2050
, while Asia hosts the majority of the world's megacities – those with a population of over 10 million people.
As urban populations increase, so will the urgency for cities to adapt and be able to provide residents with high quality of life. This means that across the region, resources will be stretched, consumption will grow, and the infrastructure of many cities will be stress-tested, particularly under the effect of the climate change. To combat these challenges, it's important to innovate the way we build and concept urban areas and move people and goods around them.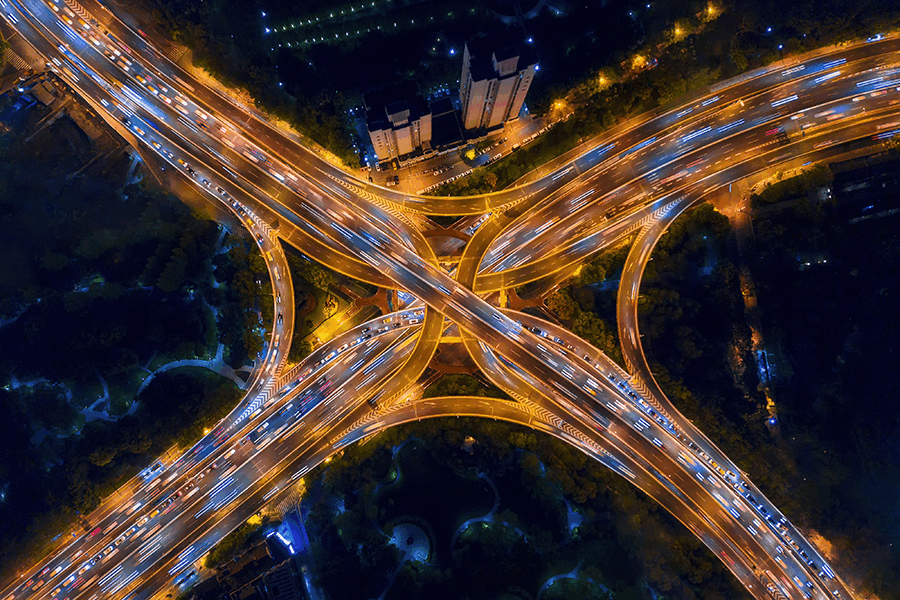 Future-proofing cities for climate challenges
UN Habitat estimated that while cities account for just less than 2% of the Earth's surface, they consume 78% of the world's energy and produce more than 60% of greenhouse gas emissions. Cities in Asia Pacific and Africa are also incredibly vulnerable to climate change. To name a few examples, Mumbai, Tokyo, Shanghai, Hong Kong, Lagos and Jakarta are coastal cities, threatened by rising sea levels and extreme weather. The Middle East and North Africa region is
warming at twice the global average
, bringing threats of floods, prolonged droughts and crop failure.
This is where smart cities can help. The more future-proof we build our cities - using methods and materials that minimize environmental impact - the greater chance our planet has of combating climate issues.
What makes a city smart?
Smart cities should not be defined by technology and convenience alone. It's just as important to also look at how cities are finding integrated and connected solutions to alleviate growing urban problems such as mobility, environmental protection, sustainability and more. Besides, a city must be able to facilitate trade and create a smart and sustainable economy for the benefit of all.
The
Arcadis Sustainable Cities Index
(SCI) puts the environment and communities as our first priority, mapping profit as simply a way of unlocking greater sustainability, for the planet and its inhabitants. Cities ranking highly in the SCI 2022 focus on Planet, People and Profit, in that order.
Ultimately, no two cities are the same. Each has its own set of urban problems, which call for a unique set of smart infrastructure and sustainable solutions. Check out five smart cities in the region, highlighted for their innovations in mapping a better future for residents and the planet:
1. SINGAPORE – smart housing solutions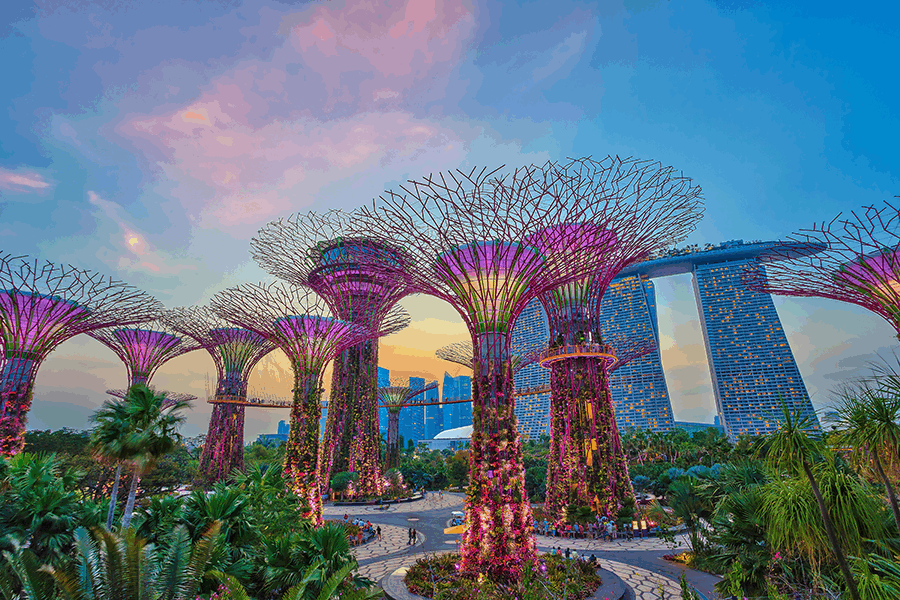 Singapore's smart city credentials are among the strongest in the region, having
placed first on the IMD Smart City Index
for the third consecutive year. Singapore first launched its 'Smart Nation' initiative in 2014, with the aim of harnessing digital technology to enhance people's lives. One major area of implementation has been inside the island city-state's public housing estates. Smart solutions include homes equipped with utility management apps and elderly monitoring systems, sensors that collect and analyze data to identify problems with public amenities such as lifts or lighting, and even using shopping and lifestyle data to plan for the kind of estate shops that best serve resident's needs.
2. DUBAI - one eye on the future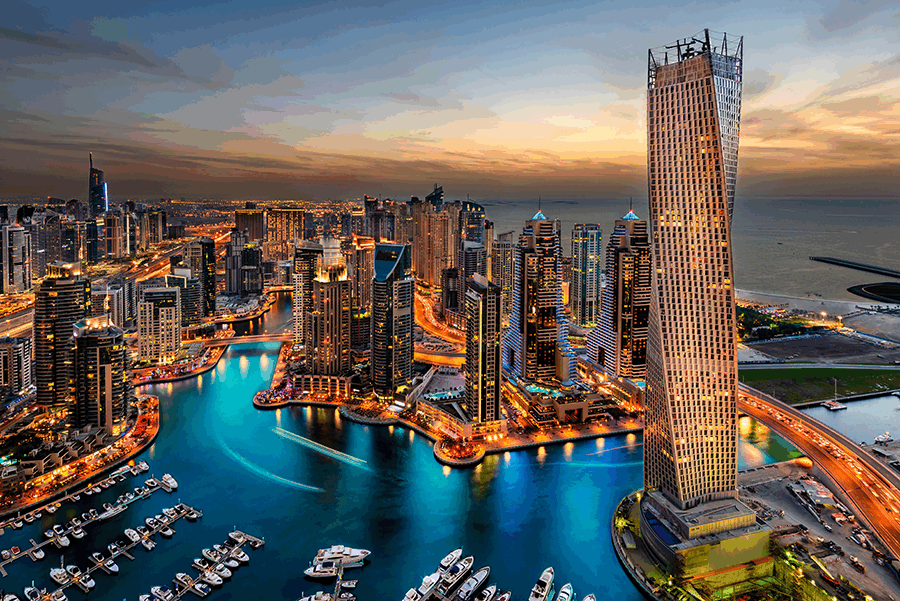 The government of Dubai of the U.A.E. recently launched the
Smart Dubai Strategy
, which sets out over 100 smart initiatives and a journey to become the first city in the world to be powered entirely by blockchain. Other key technologies range from 5G, IoT and big data to 3D printing. As well as added convenience for citizens, this digitization is set to benefit businesses of all sizes including SMEs.
Considerable resources are also being poured into sustainability, with
plans to source 75% of energy from renewables by 2050
. Dubai's ambition is to become
the city with the lowest carbon footprint in the world
. Projects such as the 'Sustainable City' are being piloted to build sustainable housing development models that recycle as many resources as possible to produce more energy than is consumed.
3. SONGDO – sustainable living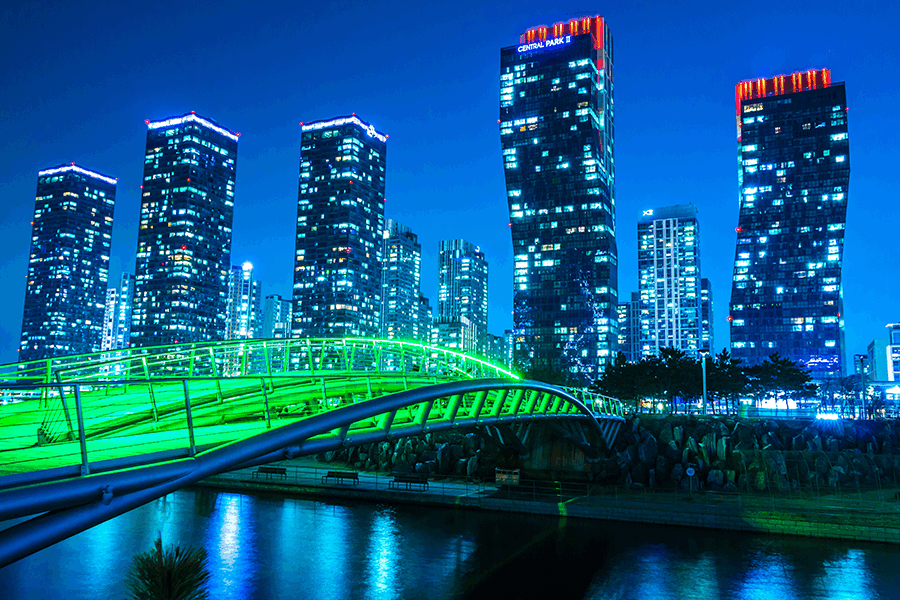 In South Korea, an entire smart city has been built from scratch with the creation of the Songdo International Business District, 30 kilometers southwest of Seoul. Now home to over 100,000 people, Songdo emphasizes connected and sustainable living. Technology is integrated into buildings and streets, seamlessly gathering data such as traffic flows and energy use. At the same time, 40% of land is allocated as green space and the entire city runs on renewable energy, including solar, wind power, and even energy generated by processed human waste.

4. TAIPEI – smart partnerships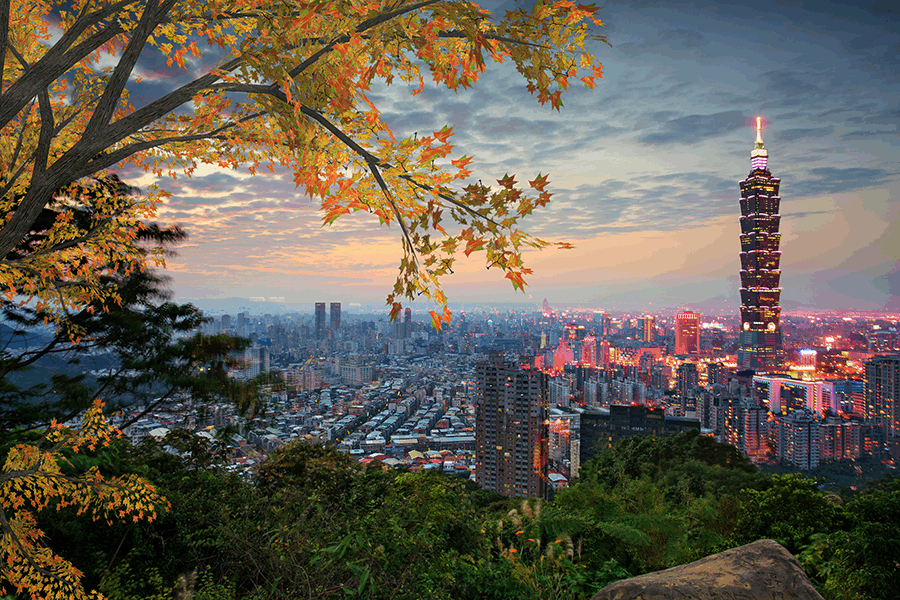 Taipei – which ranked 4th in the IMD 2021 Smart City Index - introduced its Smart City Project Management office back in 2014. Since then, the primary focus has been to promote small-scale, public participation and public-private partnership in order to introduce new technologies and innovative applications that will improve public services. These range across public housing, healthcare provision, education, public safety and overall sustainability. Projects have included a real-time smart parking platform, a 24-hour smart garbage collection and integration system, and the introduction of electric-powered autonomous bus shuttle services.

5. CAPE TOWN – connected by data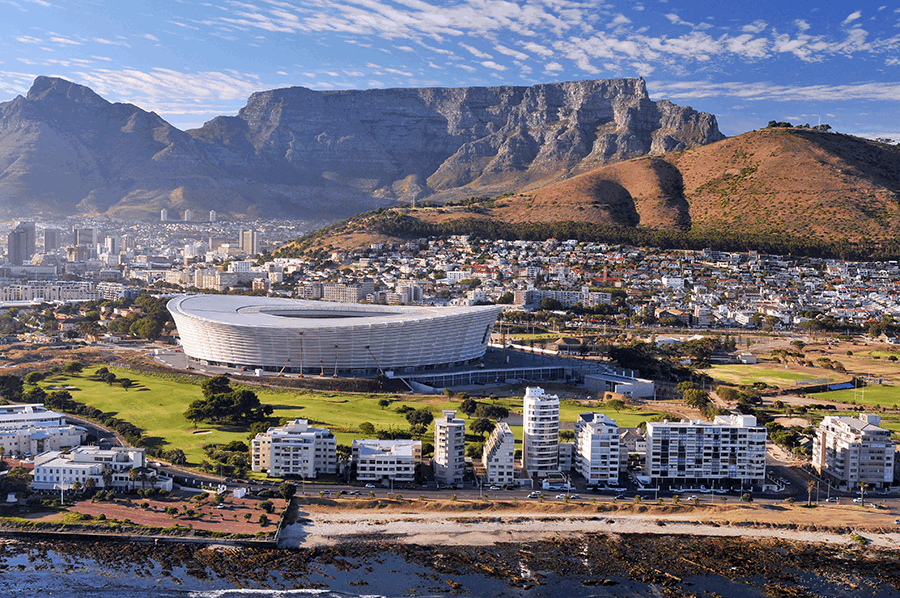 Cape Town, Africa's most developed city, is on a journey to become one of the smartest cities globally and the
greenest city in Africa
. The South African governments has invested heavily in real-time data analysis and IoT. Smart data management is helping the city to improve disaster and emergency response as well as law enforcement. High on the agenda is electrification of public transport and ensuring all new infrastructure is built and refurbished to sustainable building practices.
Connecting the dots
At FedEx, we believe a connected world is a better world, and smart cities will remain a cornerstone of this to create a better environment for our communities, customers and employees – as well as to help small businesses embrace and offer many of the innovations they need to grow. For well over a decade, WRI Ross Center for Sustainable Cities and FedEx have been
working together
to implement programs to help cities overcome specific challenges such as enhancing access and mobility, lessening congestion, elevating safety and improving air quality.
We're also investing in our operations, such as
vehicle electrification
, use of sustainable fuels and
making our facilities more sustainable
as we work towards our goal of carbon neutral operations globally by 2040.
Want to find out more about the innovations FedEx is making in a smart city near you?
Sign up for our eNews here
.
Related Posts
How Big Data Is Delivering The Future

How Small Businesses In Asia Harness Technology

7 Tech Trends For Asia Pacific Businesses: Part 1