Healthcare Readiness: Where
E-commerce And Logistics Meet
The world must be ready for the next pandemic – which means the global healthcare system needs to be prepared. Solutions can be found through digital healthcare – which enables more people to access care around the world.
A sobering truth: in the last 5 years, high-profile warnings have been issued on pandemic preparedness.
Bill Gates addressed the issue in 2015
.
Warnings from virologists and scientists
have been falling on deaf ears for years.
The worldwide outbreak of COVID-19 has, then, acted as a wake-up call for the entire global healthcare system. Triggering mass lockdowns of populations throughout the world, the impact to lives and livelihoods has been far-reaching.
The shockwaves are still being felt. Despite vaccine roll-outs, there are still concerns about countries' readiness for COVID-19 vaccines, thanks to bottlenecks at production, logistical complexities and storage requirements.
Unexpected burden to hospitals, healthcare providers and medical supply chains
Healthcare systems have been faced with patient management issues – for both those infected with COVID-19 and regular patient care. Systems have been under tremendous strain trying to meet unprecedented healthcare needs and demand on services and resource.

In the first phase of the pandemic, we were seeing disruptions to the global supply of PPE such as medical masks, face shields, hand sanitizers, gloves, respirators, goggles, aprons, and gowns due to the unexpected explosion in demand. Critical shortages meant that frontline workers such as doctors and nurses were at risk of being ill-equipped to care for infected patients. The public health emergency exacerbated the regular problems which healthcare systems confront when depending on the face-to-face healthcare delivery model.
A pivot to telehealth
Mandatory social distancing and global travel restrictions to reduce transmission have now been in force for some time. This new normal, along with the deficiency of effective treatments during the pandemic, have made telemedicine the safest interactive system between healthcare providers and patients. Telehealth focuses on the delivery of remote healthcare services by the professionals through digital communication technologies. It's also a viable solution to mitigate several logistical issues created by the COVID-19 outbreak. Transition to telehealth services has become a new industry priority, seeing a remarkable take up rate since the pandemic began.

What are the benefits? Telehealth can address core challenges in the provision of health services during the pandemic. Older people or those with underlying health conditions are at greater risk of developing diseases. Remote healthcare enables them to receive daily care without the risk of exposure to infected patients in hospitals. What's more, telehealth services can be utilized to monitor infected patients recovering from COVID-19 after being discharged from hospital.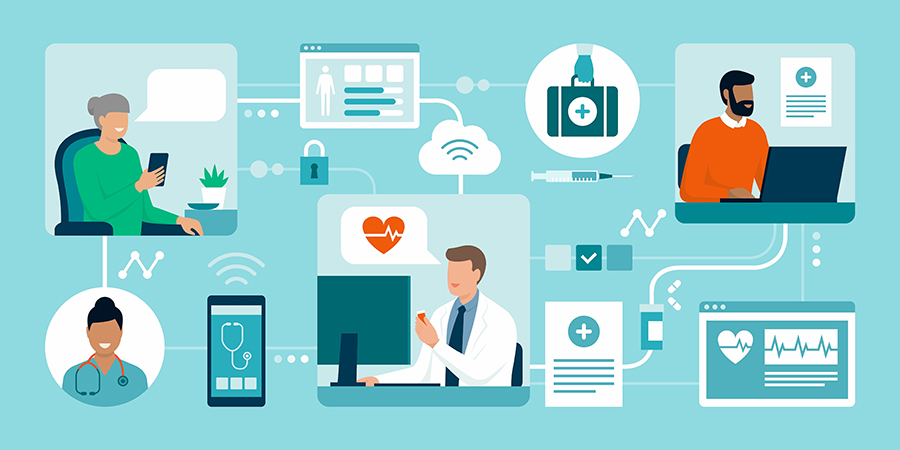 There are also numerous advantages in utilizing digital health technology in non-emergency situations. By coupling health tech with logistics, the future of routine care and regular check-ups – essentially any health checks that don't necessitate direct physical interaction and compatible with online medical prescriptions, can converge with e-commerce that allow patients to easily shop around online, compare prices and add ratings. For patients with chronic conditions, telehealth can also make remote monitoring possible.

Regular online check-ups, which don't involve the added complication of medical center opening hours and physical appointment times, can help prevent any complications that might lead to hospitalization. In addition to reducing the risk of direct transmission and easing the burden on healthcare centers' resources, remote healthcare provision also improves access to care and could be made more affordable to the lower income households that are usually the vulnerable group at risk – key to cutting the chain of transmission and future-proofing for the next pandemic.

It's not only physical healthcare that can benefit. The COVID-19 outbreak and its ensuing economic impact have caused negative effects on many people's mental wellbeing. In the provision of psychological and mental health support services, telehealth can play a crucial role in counseling and supervising not only COVID-19 patients and their families, but anyone affected by the fall-out of the pandemic - economical and psychological.
Global preparedness a priority for all
Countries such as Australia, China, Korea, Malaysia, New Zealand and Singapore have a stronger internet infrastructure, so they're better able to provide its population access to telehealth than their less affluent counterparts. However, to fully prepare for any future pandemic and to mitigate the potential negative impacts, the whole world needs to come together to launch the necessary preventive and corrective measures. Yet the wealth and technology gap between countries is becoming more evident in the post-COVID era and potentially hindering the joint effort collaborations across countries. To address this, it is necessary to also look for more cost effective and lower-tech alternatives, for example, telephone and radio services.
We're now afforded the luxury of hindsight. This means that the pandemic can be used as a lesson to help improve the equity of access to healthcare systems and start to adopt digital health technology. How can we future-proof this critical industry for next time?
Global healthcare systems must be fully prepared and adequately equipped to prevent any future crisis. Direct delivery of healthcare products through e-commerce solutions is a step in the right direction.
Want to learn more about healthcare solutions and how to transport your medical shipments during COVID-19?
Visit us here
.
Related Posts
How To Manage Healthcare Supply Chain Risk Post COVID-19

Logistics Companies Are Driving Access To Critical Healthcare

Why Healthcare Supply Chains Need To Be Pandemic-Proof