A Blue Planet: Marine Conservation In Asia Pacific
Oceans cover the majority of our planet. By helping conserve marine life and combat environmental threats, we can all play a part to help preserve our blue planet for future generations.
We live on a blue planet, with oceans and seas making up more than 70% of the Earth's surface. As well as supporting marine life and providing food,
oceans generate roughly half
of the vital oxygen we breathe. Oceans also contribute to our economy by supporting fishing and tourism as well as international shipping and sea freight. But over the last few decades, the world's oceans have faced unprecedented threats as a result of human activity.
Issues that plague our waters range from oil spills and chemical pollution to overfishing, marine habitat destruction, plastic pollution, and in particular, climate change. Sea levels are on the rise, with
Southeast Asia being one of the highest-risk regions in the world
.
Global climate change is
rapidly impacting marine ecosystems
, altering the fragile balance of ocean ecosystems and causing coral bleaching - threats to marine life that struggle to survive at higher temperatures.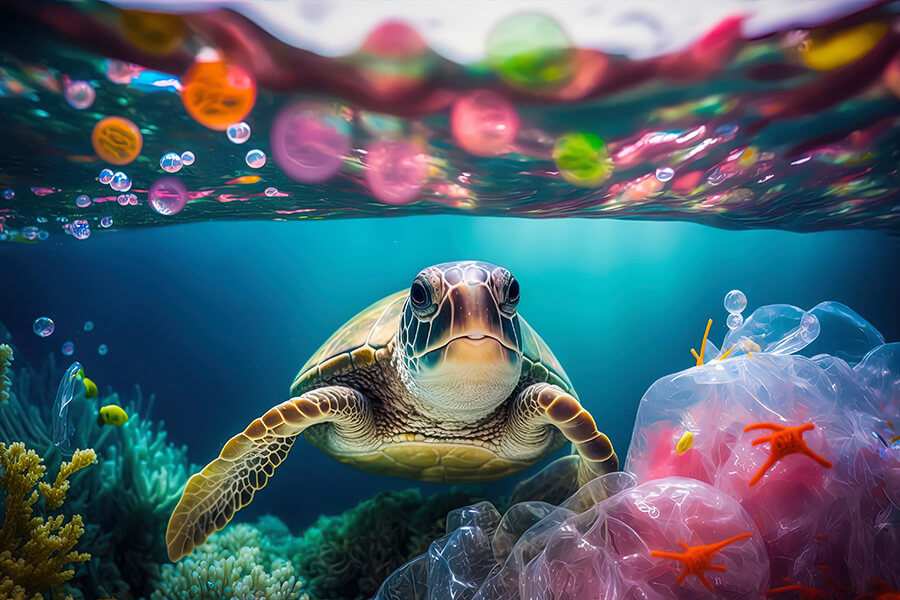 This year's
World Oceans Day
theme "Planet Ocean: Tides are Changing" uncovers the hidden facets of planet Earth to encourage preservation and safeguarding of our oceans and the blue planet.
We all have a shared responsibility to protect our environment and mitigate the threats that climate change and pollution pose to the world. Read on to find out how we're working with our team members, communities, and customers to help clean up our beaches and oceans while raising awareness on conservation across the region.
Cleaning up our beaches and shorelines
Every year, an
estimated 11 million tonnes of plastic
finds its way into our world's oceans. The Asia Pacific region in particular has a responsibility to address some of the issues because it's estimated that
81% of ocean plastics come from Asian rivers
. Beach clean-ups help to protect marine biodiversity by removing plastic waste from our beaches. Keeping our beaches clean prevents more waste from entering the ocean, supports local tourism industries and improves the livelihoods of those who live and work in coastal areas.
Across the Asia Pacific, Middle East and Africa region, our teams have been joining in the fight against plastic pollution. In 2022, over 450 FedEx volunteers and their family members
participated in a series of beach clean ups
covering 21 beaches across
Australia
, India,
Japan
and Singapore, putting in approximately 870 hours of hard work and removing an estimated 142,000kg of garbage and plastic.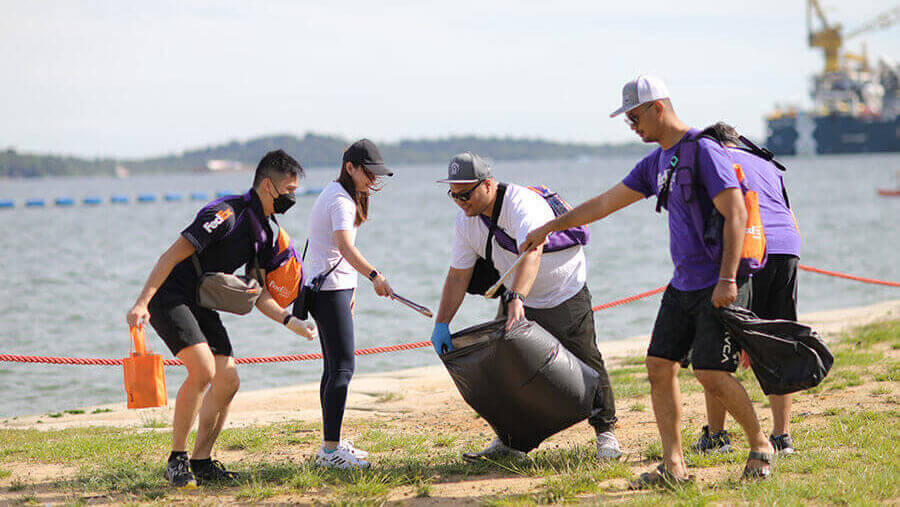 In April, to mark FedEx's 50
th
anniversary, team members organized beach clean-ups in the UAE, Bahrain, India, Mainland China, and Australia to reduce waste and build cleaner coastal communities.
In Thailand, our teams came together to help raise awareness about coastal conservation and the importance of reducing marine pollution. An estimated
428 kilotons of plastic waste disposal is mismanaged every year
in the country. 47% of that waste ends up in the rivers and is discharged into the sea, harming marine life and ecosystems.
Our
'For Sea the Future' initiative combines physical exercise with environmental stewardship
to help Thai communities clean up their shorelines. 75 volunteers participated in a beach 'plogging' activity to pick up litter while jogging in early 2023. In total, 217 kilograms of plastic waste was collected and removed from Napa Tharaphirom beach in Sattahip district, southeast of Bangkok.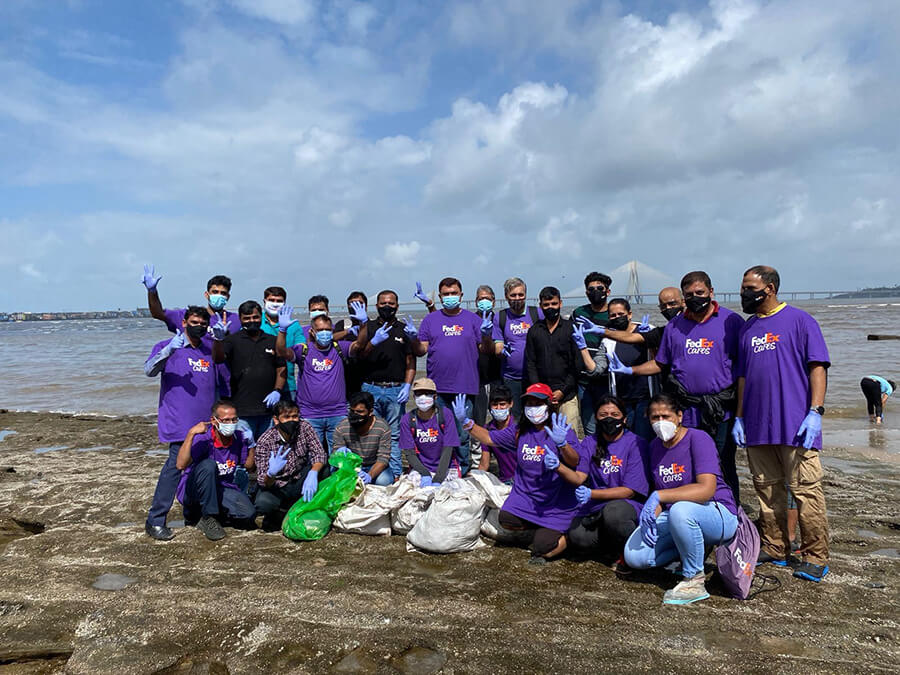 In India,
our long-term collaboration with United Way Mumbai
has seen team members engage in beach clean-ups and mangrove forest restoration to help preserve coastal areas important for biodiversity and habitat conservation.
Investing in marine culture and biodiversity
Another area of focus is educating communities on the importance of marine conservation
and supporting efforts to regenerate coastal areas. In Indonesia, we're collaborating with Yayasan Konservasi Alam Nusantara (YKAN), a non-profit marine life conservation organization. We've established a 12-month program which aims to benefit approximately 270,000 families and 33,000 seaweed farmers. Our goal is to drive a positive shift in the community's attitude towards the environment and build their potential as global entrepreneurs.
Many local residents are seaweed farmers in Wakatobi, an archipelago of 150 islands vulnerable to environmental damage that can lead to the degradation of the area's rich biodiversity. Climate issues impact not only the quality of marine life in the surrounding islands, but also the livelihood of seaweed farmers within the community. As one of the largest seaweed producers in Indonesia, seaweed cultivation in Wakatobi provides significant economic opportunities for the residents.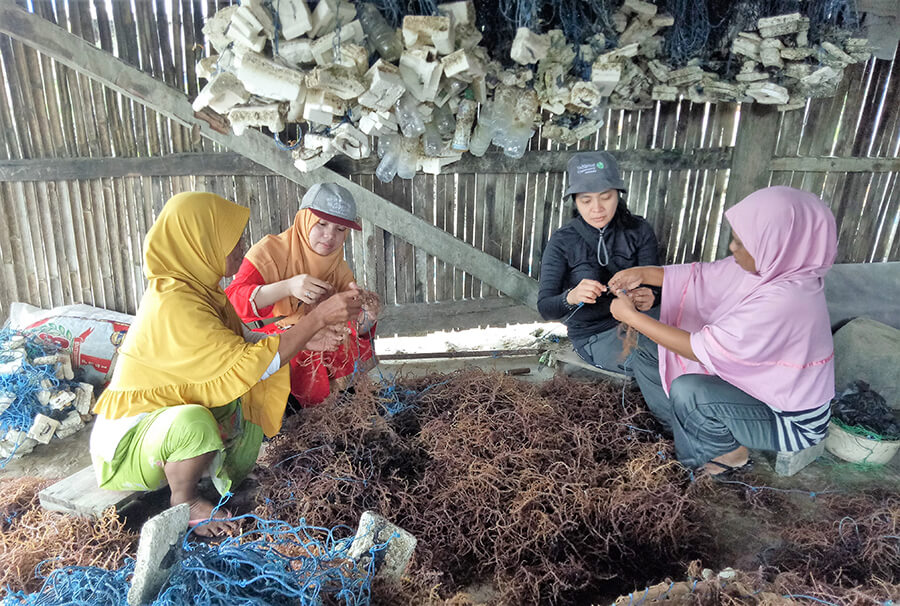 Our program in Wakatobi focuses on two key areas: responsible use of marine resources and a shift towards cross-border e-commerce. To help farmers leverage e-commerce, our FedEx volunteers developed a training module on the basics of digital marketing, cross-border e-commerce, and suitable shipping methods for exporting their seaweed products.
Empowering sustainable small businesses
As a champion of entrepreneur culture and SME innovation, we're proud to support small businesses who are making sustainability the heart of their businesses. Some of the work our customers do directly supports efforts to preserve the beauty and biodiversity of our oceans.
For example, The Plastic Flamingo is a social enterprise in the Philippines tackling plastic waste through responsible waste collection and recycling. As a coastal nation of more than 7,500 islands, the Philippines' marine biodiversity and fishing, shipping, and tourism industries are especially vulnerable to the impact of marine debris and pollution.
The Plastic Flamingo works to tackle the country's plastic
crisis and create useful upcycled products such as furniture, household items and emergency shelters.
Singapore-based small business Liviri
is also tackling single-use plastic waste – much of which ends up in our oceans – with reusable alternatives. We collaborated with Liviri to help them on their mission, using our FedEx Packaging Lab to test prototypes of reusable packaging.
At FedEx, we know that building a sustainable future doesn't happen overnight. It requires a collective behavioral change. Besides working hard to achieve our goal of carbon neutral operations by 2040, we're also actively building meaningful programs and working with team members and customers to address pressing environmental issues across the globe.
For more sustainability stories,
visit our Sustainability page here
.
Related Posts
How We Are Recycling Old Uniforms Into New Caps in Thailand

How An 'Ecoware' Warrior Transformed Single-Use Plastic In India

Greening The Supply Chain To Combat Climate Change