Top 8 Most Unusual Things We've Ever Shipped: Part II
Whether delivering for good or shipping priceless historical treasures, we have decades of experience in moving some of rarest items around the world. Discover more in the second instalment of our unusual shipment series.
Out-of-the-ordinary shipments? We've got them covered. Over the years, across our global business lines, we've transported rare and irreplaceable shipments including historical artifacts, cultural monuments, endangered species and wild animals in need of rescue.

In the second part of our Unusual Shipments series, take a look at some of our most memorable shipping moments below:

1. 33 tons of plants for Alice In Wonderland exhibition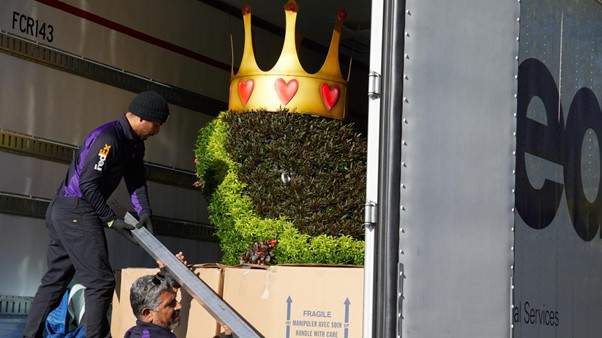 In 2022, we invited Memphis locals and visiting tourists on a trip down the rabbit hole,
helping to bring to life Alice's Adventures at the Garden
, an immersive art experience at the Memphis Botanic Garden.
The display featured over 35,000 living plants and 33 tons of sculpture: no mean feat to transport and set up. Exhibits were over 20 feet high, featuring beloved characters from the story such as Alice, the White Rabbit and the Queen of Hearts. The shipment of living plants needed to be carefully transported from the Atlanta Botanical Gardens in a temperature-controlled environment of around 21°C.
As part of our global Delivering for Good initiative, we donated the cost of our shipping services to non-profit organization, the Memphis Botanic Garden, so communities and families could experience the joy of this magical exhibition first-hand.

2. Sacred Tibetan artefacts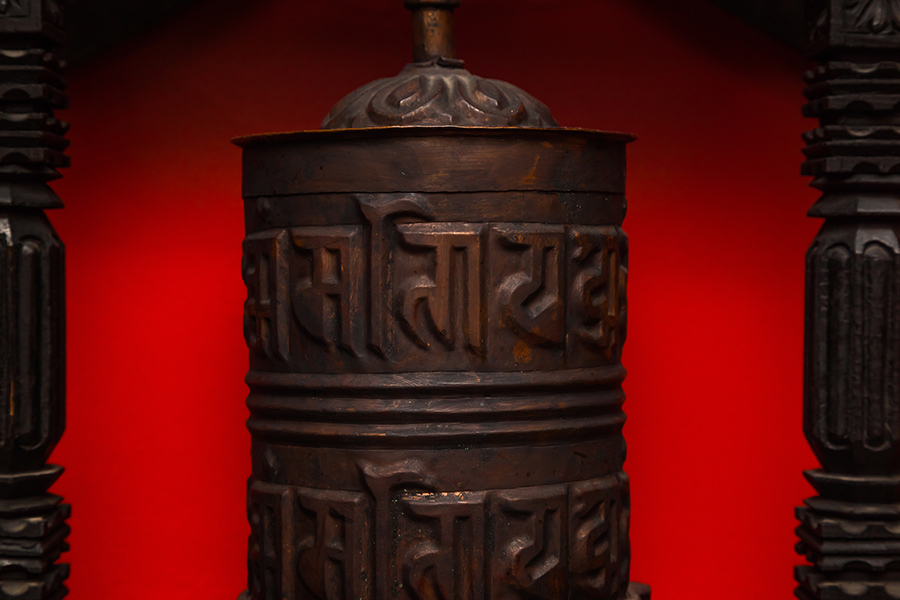 In 2010, we were entrusted with the careful
shipping of rare Buddhist artifacts
from special museum collections, palaces and monasteries across China to Taipei for an exhibition at the Taiwan National Palace Museum.
The "Sacred Land Tibet – Treasures from the Roof of the World" exhibit was curated to showcase the most complete collection of rarely-shown Tibetan Buddhist artifacts yet. 130 art pieces included statues, paintings, mandalas and other sacred objects dating back to the 5th century. As a shipper of choice for rare and delicate cargo, we've also transported jade burial suits, Terracotta warriors and other priceless cultural artifacts across the region in the last two decades.
3. Rare T. Rex skeleton: 'The Nation's T. Rex'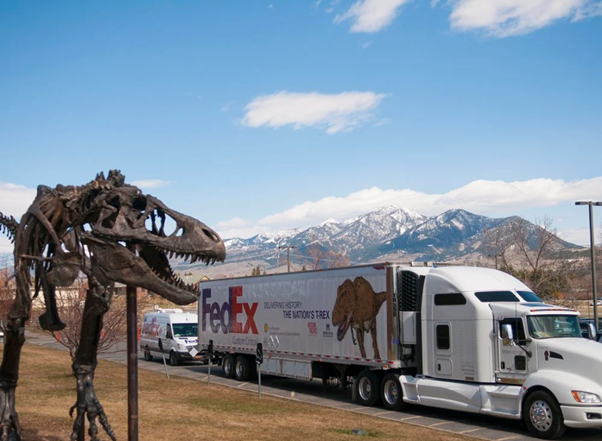 The chance to see a real dinosaur skeleton is a dream come true for any natural history enthusiast, and museums all over the world jump at the chance to display one. In 2014, we transported a rare Tyrannosaurus Rex skeleton from the Museum of the Rockies in Bozeman, Montana to the Smithsonian National Museum of Natural History in Washington, D.C.

The 65 million-year-old fossil was dubbed 'The Nation's T. Rex', and is regarded as one of the most complete specimens known to man. Measuring 38 feet long and weighing seven tons, the T. Rex made the journey from Montana to Washington, D.C. The journey took four days, driven by a husband-and-wife team of FedEx couriers. With truly priceless cargo of immense historical importance, special precautions had to be taken to ensure safety en-route.

Proactive monitoring and visibility were provided, with devices to observe the shipment's defined specifications such as temperature, humidity, light exposure and barometric pressure while in transit.

A thrilling story lies behind the discovery of the dinosaur bones. An arm bone - the first T. Rex arm bone ever found - was discovered in 1988 in the Fort Peck Reservoir by a local rancher. The find led to an intense excavation around the reservoir, resulting in the unearthing of 80% of the dinosaur's skeleton. The Nation's T. Rex is on loan to the Smithsonian for 50 years.

4. The 'Sunrise Seven' chimpanzees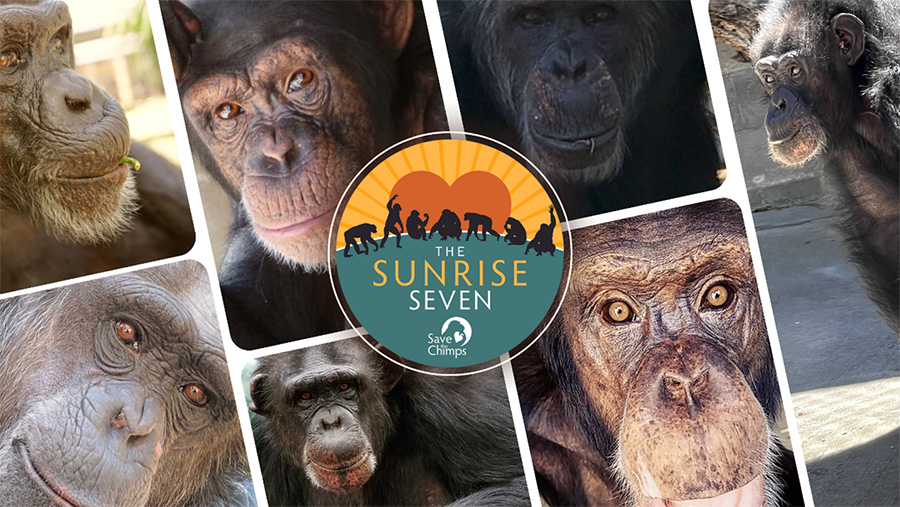 When the Wildlife Waystation, a California animal refuge, closed in 2019, more than 450 animals needed relocation to new homes. Over time, all the animals from the sanctuary found new homes –
except for seven chimpanzees
.
Eventually, a new home was found with
Save the Chimps
, one of the largest chimpanzee sanctuaries in the world. We teamed up with the sanctuary to bring the chimps safely to their new Florida home more than 4,000 km away. The Sunrise Seven - Vanilla, Shake, Cayleb, Ernesta, Jacob, Jeff, and Magic - all arrived safely, joining other chimpanzees after a two-month mandatory quarantine.
The 150 acre sanctuary is home to over 220 chimpanzees and is spread across 12 islands, each offering a unique social structure to suit different primate personalities. The refuge space is designed to provide the chimps with the very best lifelong care and the opportunity to enjoy nature and the outdoors. Good luck, Sunrise Seven!

5. Jaws, the tiger shark featured in the 1975 film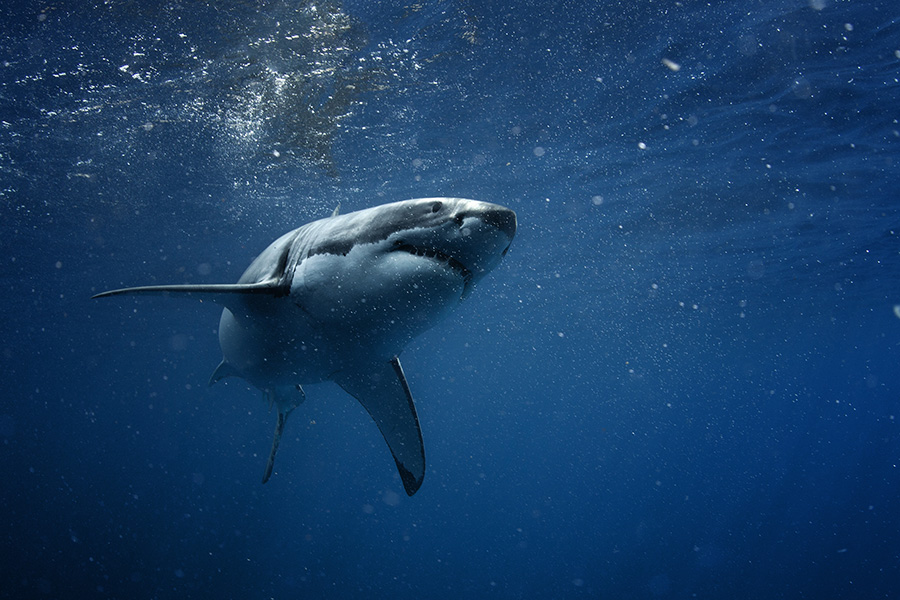 Have you seen the iconic predator film, Jaws, featuring a great white shark that hunts the beaches of New England for human prey? In
one of our earliest unusual shipments on record
, we helped bring Jaws to cinematic life by transporting the star, an almost four-meter tiger shark to Steven Spielberg's film set. Almost 50 years ago in 1974, we shipped the shark in a four-and-a-half-meter casket from Florida to Martha's Vineyard, Massachusetts, where the film was shot.
6. A snappy delivery: 120 live crocodiles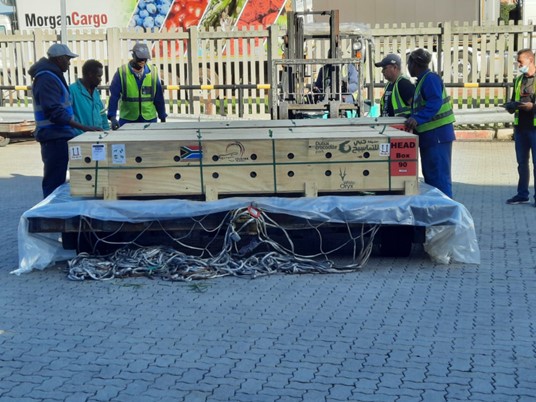 In 2022, our teams took care of an extra special delivery: shipping 120 fully-grown crocodiles from Johannesburg, South Africa to a wildlife park in Dubai. Individual crates were placed carefully and secured tightly so that the reptiles were able to enjoy the smoothest possible flight. With the strongest bite of any animal in the world, we handled this shipment with extreme care!

7. Priceless Inca artifacts from Machu Picchu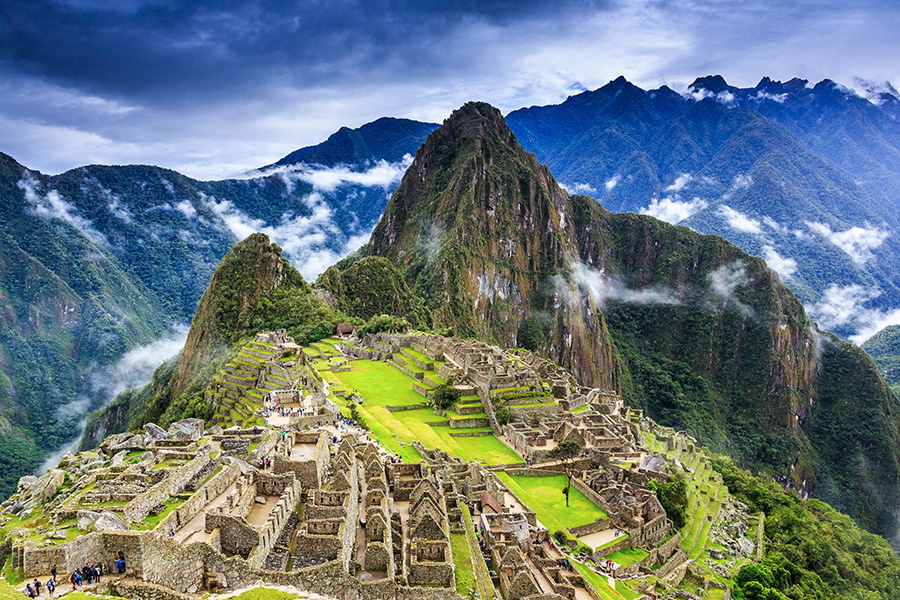 Machu Picchu is one of the Seven Wonders of the World: a 15
th
century Inca citadel that stands on an almost 8,000 ft mountain peak in Southern Peru. Often referred to as the 'Lost City of the Incas', the ancient site has captured the imagination of historians for centuries, and more recently, tourists who flock to experience this mysterious place.
Back in 2013, we had an enormous challenge on our hands:
successful transportation of 127 crates of historic Machu Picchu artifacts
from Newark, New Jersey to Lima, Peru. The crates contained delicate stone tools and fragile ceramic fragments first excavated by archaeologist Hiram Bingham in 1912. Conserved for nearly a century at the Yale Peabody Museum of Natural History, the crates were destined for their new home at the UNSAAC-Yale International Center for the Study of Machu Picchu and Inca Culture - just a short train ride from the ancient Machu Picchu site.
As well as co-ordinating with museum custodians and academics, we also worked with the Peruvian government, airport authorities and customs agents to ensure that the nine-hour journey went as smoothly as possible.
8. The Phoenix capsule from famous Chilean miner rescue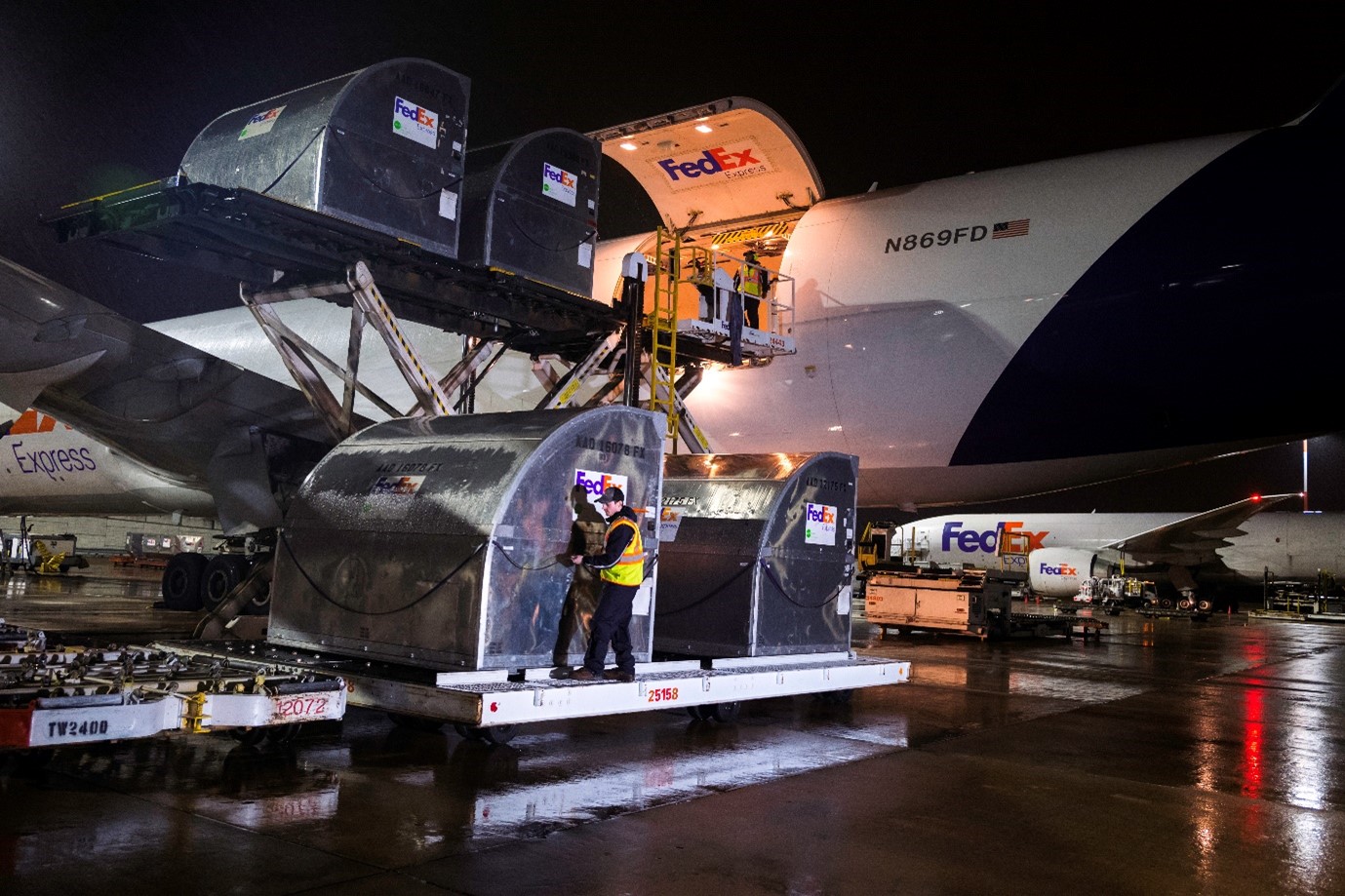 In 2013, we also
transported the "Phoenix" capsule
, a device used to aid in the rescue of 33 miners who were trapped for nearly ten weeks in a Chilean mine. Following the rescue in 2010, the capsule toured the globe before returning to Santiago, Chile.
Delivering for future generations
We have a long and exciting history of using our extensive global network and expertise to transport rare and delicate cargo around the world. These highly thrilling delivery missions are the result of extremely meticulous planning and close collaboration with historians, archaeologists, botanists and experts in conservation and animal welfare. Whether to preserve our rich cultural history for future generations or to re-home endangered species, we donate our shipping services using our Delivering for Good program to contribute to educating communities and supporting cultural exchange and academic study.
As well as being famous for shipping giant pandas over the years, other unusual cargo we've transported include Ancient Egyptian artifacts, items from the RMS Titanic, and many types of live animals including elephants, rhinos, jellyfish, lions, gorillas, and eagles. You can find more fascinating stories of unusual shipments we've sent across the world
in Part I of this series here
.
For news on our latest Delivering for Good projects,
follow us on LinkedIn here
. And for a step-by-step guide on
how to ship sensitive items or parcels that are tricky to pack, head here
.
Related Posts
Top 8 Most Unusual Things We've Ever Shipped

Shipping 7 Chimpanzees To A Rescue Sanctuary

Top 5 Trickiest Items To Pack