Re-energize Your Business With A Startup Spirit
Has the new normal changed the way you work? Take a page from the playbook of successful startups and learn how you can infuse your business operations with creativity, grit and agility.
No business has been left untouched by the COVID-19 health crisis. Small business leaders are taking on new roles that they may not have trained for. Meanwhile, organizations are also bracing for the impact of the 'new normal' by transforming their processes. In the face of these unprecedented challenges, the ability to innovate quickly has become central to survival.

FedEx is no stranger to innovation. It has been part of our corporate DNA since day one and innovation continues to be an integral part of the FedEx culture and business strategy. Today, we look at some of the best things we've learned from successful startups:
Start with the customer
Startups are known for creating solutions that address specific customer pain points. Zero in on what your customers really need by starting a conversation with them. Engaging customers on social media platforms is a cost-efficient way to connect with them. Asking open-ended questions like: "How can we help you today?" or "What did you love most about our product?" is a great way to begin.
Make room for ideas
Keeping communication lines within your organization fluid has its benefits: fresh ideas can come from the unlikeliest of places. Initiating quick surveys or polls across teams and specializations can help pool solutions, and ultimately, improve business efficiency.

In addition, sharing successes and failures openly keeps teams from repeating mistakes. Cataloguing what works saves time, conserves resources, and speeds up the implementation of best practices.
Don't spread yourself too thin
Experienced startup leaders are not afraid of asking for help. This way, they can maximize their energies on helping their business thrive. Having a reliable and reputable logistics partner like FedEx integrated into your operations can bring credibility and security to your business.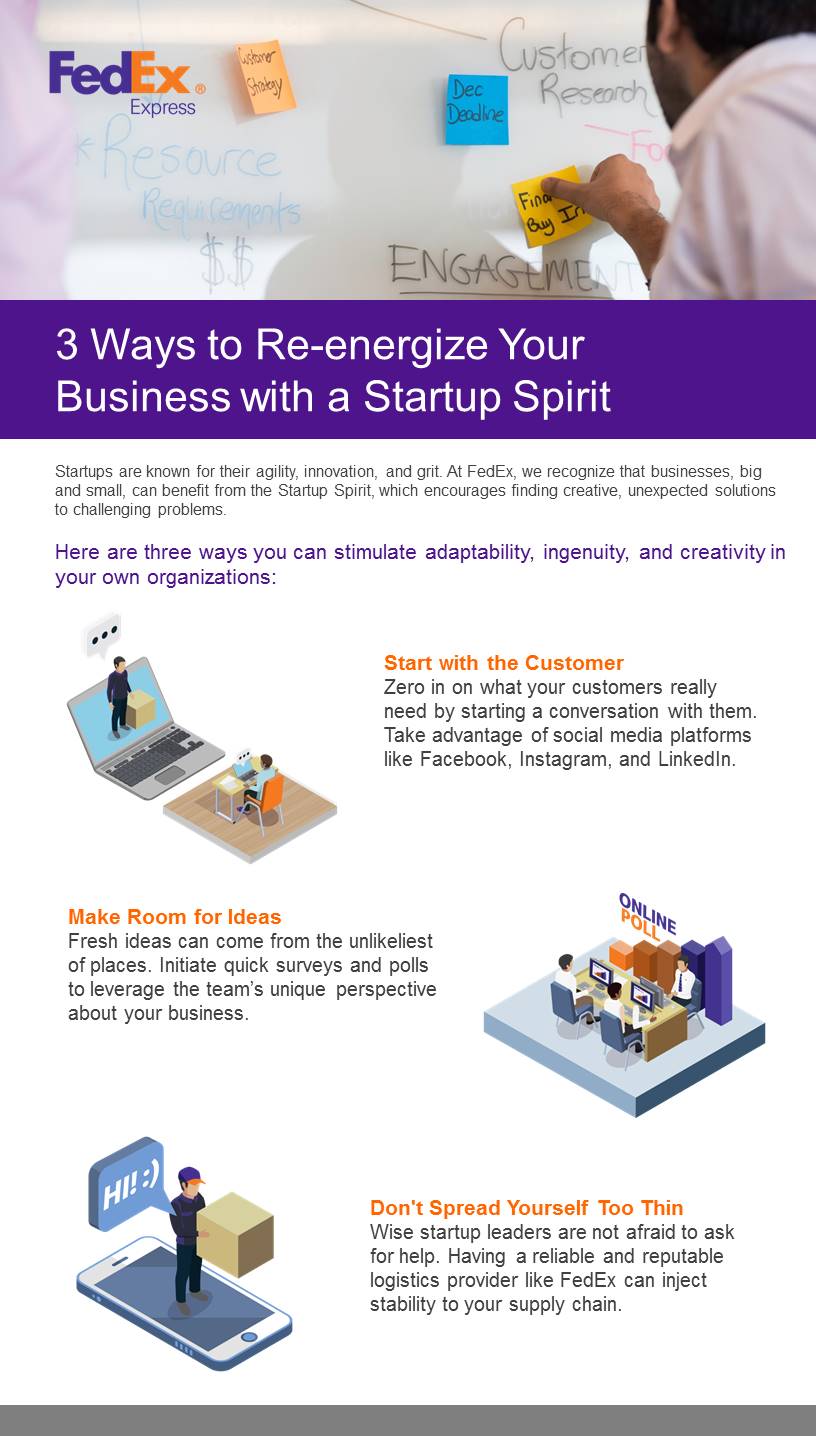 Want to get more tips from business leaders and FedEx insiders on how to grow your business? Follow our
LinkedIn page
for insights from across the Asia Pacific region.
Related Posts
Failure: An Unlikely Recipe For Success

Licensed To Thrill: Meeting Demand For Merch

Why All Retailers Should Sell Overseas