How Trade Deals Help SMEs Step Up
Karen Reddington, Asia Pacific President, shares how SMEs can take advantage of trade deals to tap into new global markets to import and export.
Innovation for all: the idea that innovation, in its fullest expression, serves everyone[1]. Never before have Asian small businesses and start-ups been so connected – in digital tools, technology, access and ideas.
Everywhere we operate, entrepreneurial innovators are leading with passion and counting on connectivity to expand their businesses across borders, seize niche opportunities and shape our global economic future[2].

So why then does evidence[3] show that SMEs are failing to access trade deals – one of the most significant tools there is for multiplying business growth and opportunity? And what do agreements like the Comprehensive and Progressive Trans-Pacific Partnership (CPTPP) or the Japan-EU Economic Partnership Agreement (EPA) offer?
Many SMEs unaware of potential
Trade agreements are designed to lower the barriers between participating countries – giving domestic companies better access to more customers and larger, international markets – while reducing tariffs and customs duties which slow global commerce.
That's why the CPTPP is arguably one of the most important trade deals in decades – it removes tariffs on about 95 per cent of goods traded between member countries.

The agreement, which went into effect in December 2018, creates a trade community accounting for an extraordinary 14 per cent of the global economy. That figure is projected to rise to 18 per cent as more countries queue up to join the bloc – already comprising some of Asia's most dynamic economies including Vietnam, New Zealand, Japan and Singapore.

Then there's the Japan-EU EPA – another new deal that's expected to spark more than a 30 per cent rise in the volume of trade and went into force in February 2019.

Yet the biggest surprise is just how little many "born global" SMEs and entrepreneurs know about these deals – let alone how to translate their potential into business success[4].
We at FedEx would like to believe that year on year, more SMEs are taking advantage of trade deals to facilitate their entry into new markets. Yet it's quite common for us to work with companies who don't understand how to use trade agreements to their benefit.
The knowledge gap
In markets like Singapore, there's broad recognition that SMEs are having difficulties reaping the benefits[5]. In Australia, concerns that SMEs are not seizing the opportunity have triggered a government inquiry[6]. Further afield in Europe, research indicates that lack of information or regulatory complexity is resulting in billions of Euro being paid every year by companies in undue customs duties.
What's more, SMEs are telling FedEx that agreements remain too tough to interpret or navigate, especially for those who are inexperienced in international trade.

This is not a new issue – a few years ago, HSBC's research on 800 companies across Asia gauged the take-up of trade agreements – and found that only around one in five businesses were using them[7].
A simple explainer
So what's the answer? It starts with making trade deals a part of business strategy – and ensuring that business clearly understands the "why" of how they can benefit from improved terms of trade.

For instance, companies that use agreements experience stronger export growth, access to new markets, a wider client base and the creation of new business opportunities[8]. Such developments can be transformative for small business growth.

But the challenge is also more specific– SMEs often lack the resources and expertise to navigate complex trade rules, and do not know how to reap the benefits of trade agreements. So many need "hands on" manuals or "explainers" to guide them through specific benefits within the labyrinth of information that exists[9] on any one deal.
Other than lowering tariffs for almost all goods traded between member companies, the CPTPP also makes moving goods among member states easier by streamlining paperwork, increasing transparency, and setting up rules that reflect modern supply chains. That means SMEs will be able to trade in 11 CPTPP markets with a single set of rules and document requirements, greatly simplifying access to markets representing almost 500 million people. [10].
When it comes to the Japan-EU EPA – the largest trade community in history[11] – the vast majority of the 1 billion Euro in duties paid annually by EU companies exporting to Japan have now gone. This has opened up a market of 127 million consumers – with benefits for businesses from both sides.
So where to from here?
For FedEx, it's the "how" that's increasingly critical in equalizing the opportunity.

Take, for instance, Style Nanda – a Korean fashion web mall and e-commerce site recently bought out by L'Oreal. It was only when the business started to understand how to exploit different global markets that the business really took off[12].
Here, the choices are many – and growing. For instance, SMEs in different CPTPP markets can team up to target a third, and entirely different market – saving time and money by pooling resources[13]. SMEs should also make full use of business, government and SME bodies – as well as work alongside companies like FedEx to understand where the quick wins for their business might be.
It's also counsel and technology tools that are critical. For instance, we help SMEs with knowledge and resources to help them clear customs confidently and quickly. We also advocate automating as many shipping processes as possible, so cross-border shipments clear customs easily. Here, tools like FedEx Global Trade Manager – which helps SMEs estimate duties and taxes, or helps find the necessary documents[14] are seeing strong uptake.
Then there's our work with customs authorities across the region to expand clearance solutions for cross-border e-commerce – for instance, in China, we recently launched a "one stop" Business to Consumer (B2C) import customs clearance solution for cross border e-commerce for e-retailers[15].
No matter what, the goal is clear – ensure innovation flows from all deals to all kinds of businesses. For if SMES can put the benefits into practice, the possibilities are endless.
*Click image to enlarge infographic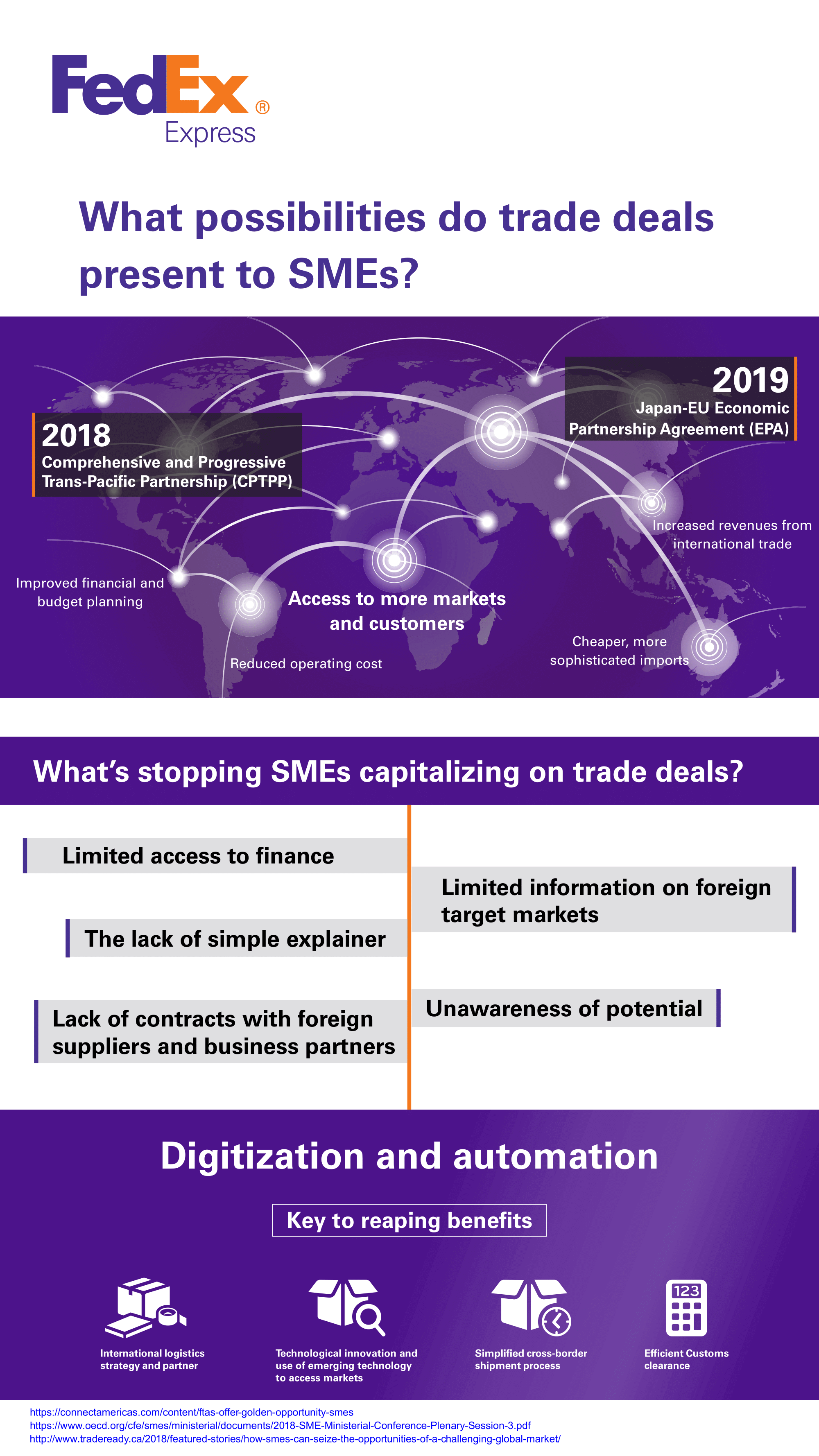 Related Posts
Licensed To Thrill: Meeting Demand For Merch

The Latest
Newsletter to Your Email
Get relevant and
timely information
sent directly to
your inbox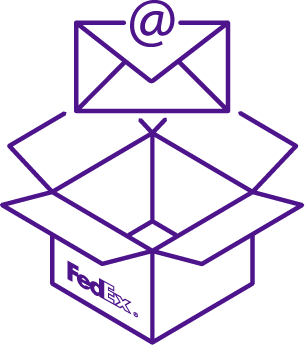 Please select
your location:
Australia
China
Hong Kong S.A.R, China
Indonesia
Japan
Macau S.A.R, China
Malaysia
New Zealand
Philippines
Singapore
South Korea
Taiwan, China
Thailand
Vietnam
Others