How E-Commerce Is Reviving A Lost Art
Global e-commerce is helping one Vietnamese small business to revive a niche art form called quilling – and bring it to customers all over the world.
In late 2011, a passion for the craft led Vietnamese entrepreneur Huong Wolf and her husband Raphael Wolf to found
Quilling Card
. At the time, she never imagined that her small enterprise would flourish into a greeting card company of around 500 employees, with her meticulously handcrafted art found in the homes of admirers from all over the globe.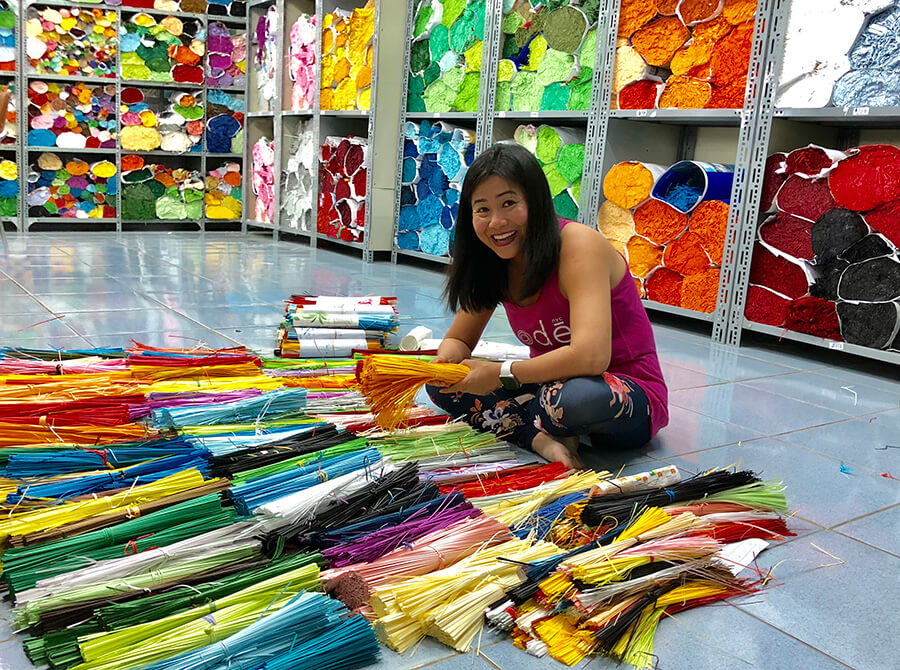 Turning a passion for quilling into a global commercial success

Quilling, the art of manipulating and arranging small strips of paper into detailed designs, has been around for centuries. This form of artwork, which rolls, loops and curls paper into decorative shapes, is commonly found on greeting cards, boxes and jewelry.

But transforming a passion into a business is no easy task. Huong recounts the successes as well as challenges:

"We are fortunate to have a stable supply chain and operation that continues to run smoothly with the support of FedEx—one of the world's top logistics providers," added Huong. "Working with FedEx, who take care of all logistics-related matters, allows us to focus on our core business operations and ensure we continue to develop well-trained staff."

Because quilling is a niche art, even in Vietnam, Huong spent three years training her staff with only about 20% of them staying on in the company.

Despite these challenges, Huong persisted because of her faith in the business. Vietnamese people have been known as skillful artisans throughout history. She believes that operating a quilling factory in Vietnam would not only create better opportunities for the people but also serve as a means to preserve a tradition.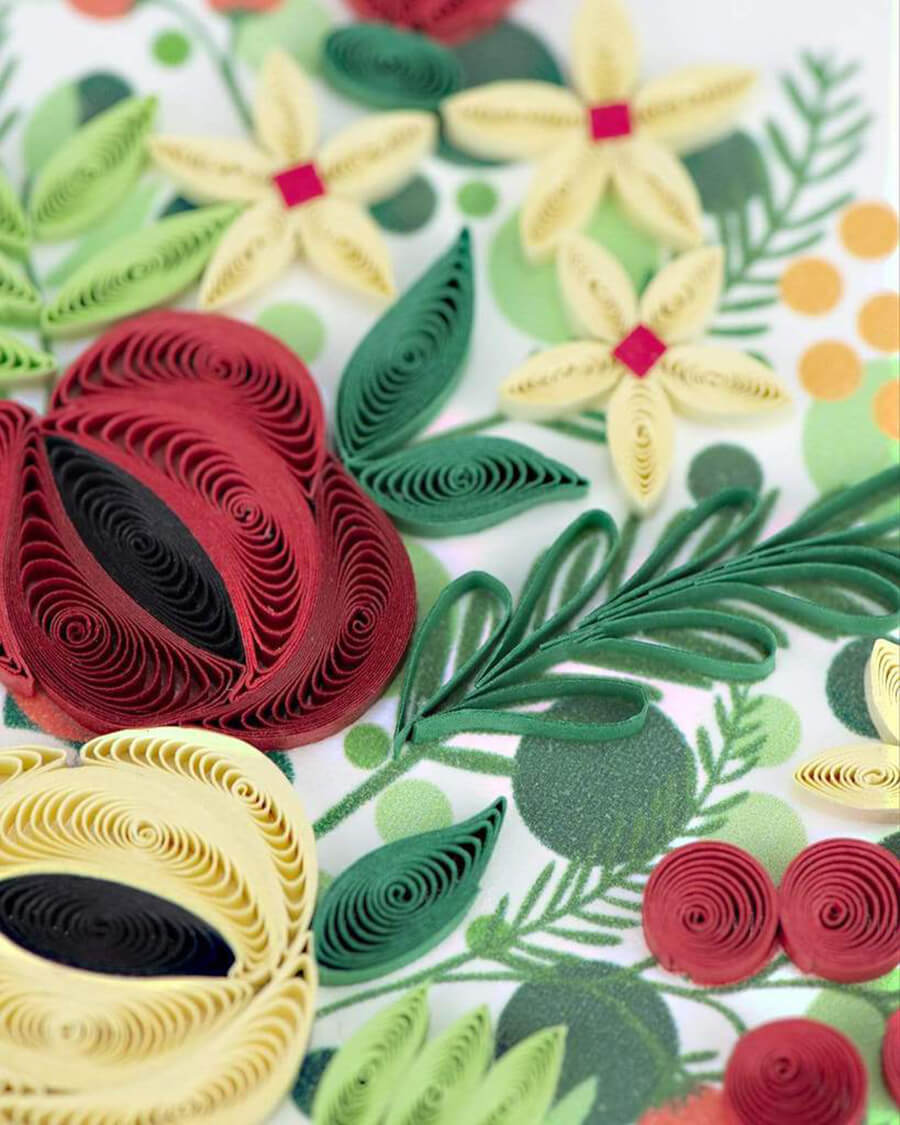 "We wanted to be the first in the world to commercialize quilling cards successfully, and despite the numerous challenges, I'm proud of our journey which has led us to where we are now," says Huong. "Quilling Card LLC. has clients from all over the world including the U.S., Canada, Australia, Japan, China, France, UK and Chile. In 2018, more than 1.5 million cards were sold."

A focus on human empowerment

Currently, Quilling Card has around 500 employees. Many staff members have speech disabilities, so the company makes sure that staff fluent in sign language are part of the training team. Allying with the Fair Trade Federation (FTF) has helped foster Huong's vision. The FTF focuses on maintaining a code of values for proper treatment of employees and encourages growth and sustainable business practices all over the world.

Employees are currently paid a salary 25% above the national average and have a benefits package, which includes six months of paid maternity leave.

"My vision for Quilling Card Vietnam is to create a Quilling de Maison (or house of quilling) that nurtures a holistic, inspiring lifestyle for the artisans," says Huong. "I not only want to bring more jobs to Vietnamese people, especially women and underprivileged individuals, but also to foster a positive and joyful work culture.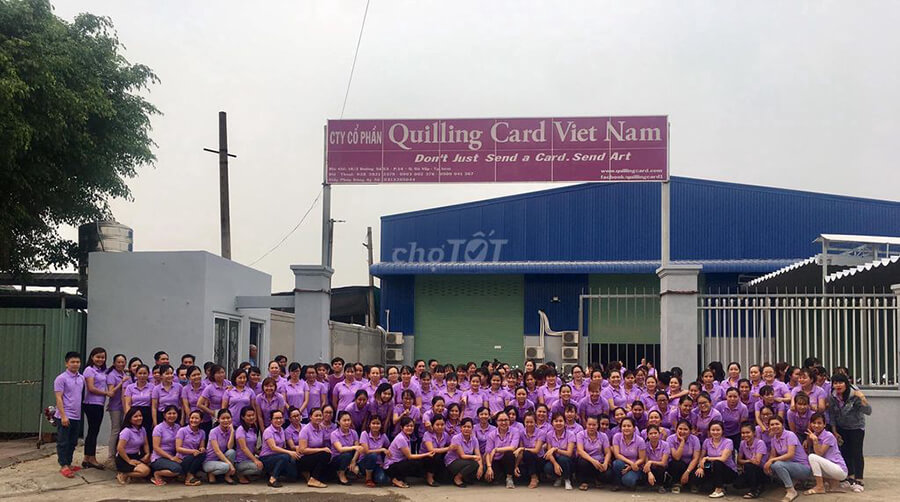 Huong believes that human empowerment is the single most important factor in running a successful business. At Quilling Card Vietnam, great emphasis is placed on ensuring the staff of quilling artisans remains inspired and constantly supported.

"This type of company culture reduces stress levels for everyone, and personally for me, as the CEO, this means I can spend my time focusing on and dealing with bigger issues, and getting things done by the end of day," says Huong.

COVID-19 highlighted the most essential aspect of quilling art: human connection

"We saw many people looking to connect with their loved ones in a meaningful way while socially distanced," says Huong.

Greeting cards have always been a way to remind people that they are thought of, cared about, appreciated and loved. Receiving a 100% handmade card makes people feel special, and even more so with a Quilling Card, as this is not the type of card that is bought last-minute—it is a card that was selected with a specific person in mind. These cards are most often framed and displayed as the art they are, making them a cherished keepsake gift.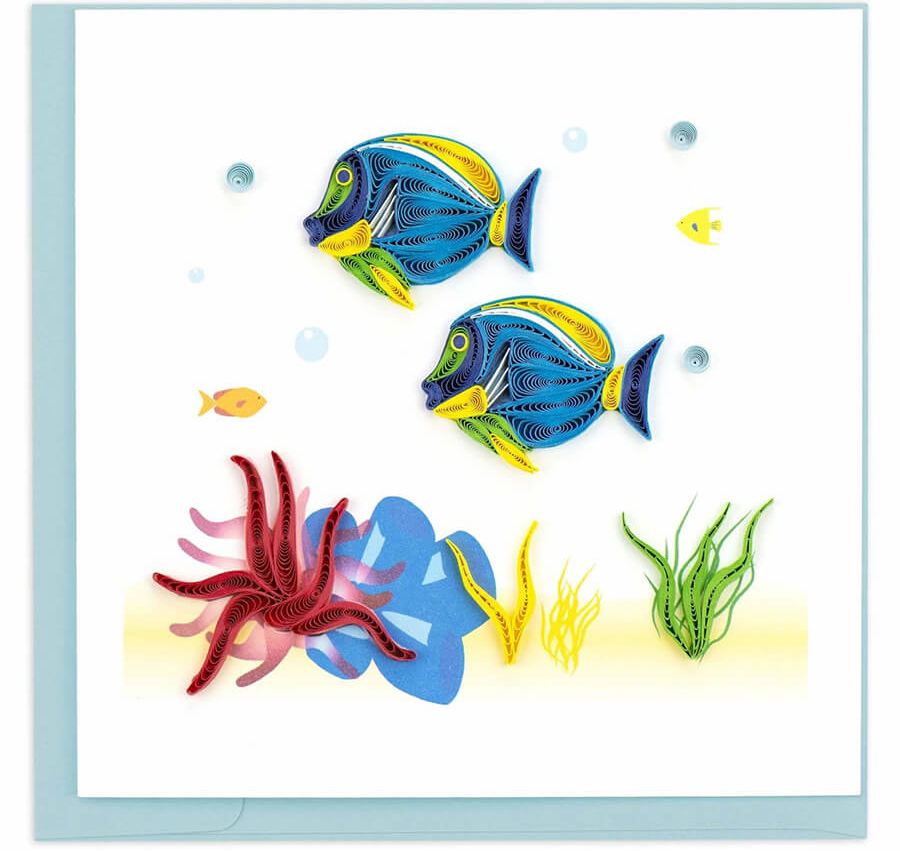 Running a successful business in Vietnam - from the U.S.
Quilling Card first set up offices in Massachusetts, U.S., which is still where day-to-day business matters are managed, sales operations are conducted and where product/design development begins.
"In the early days, I had to beg my brother, who used to be a doctor, to help set up a quilling factory in Vietnam," says Huong. After getting settled in the U.S., it was not long before the first Quilling Card owned-and-operated workshop—where all quilled designs would be expertly handcrafted—was established in Huong's hometown of Ho Chi Minh City and later Fair Trade Certified in 2015.
With Quilling Card's head office in the U.S., where Huong resides, trusted and reliable delivery of orders is critical in ensuring smooth business operations, brand reputation and customer retention.
"With clients from the U.S., Canada, UK, France, Australia and Japan, our success has a lot to do with the FedEx global network that has supported us seamlessly in moving our product around the world on time," explains Huong.
Reliable logistics serve as the backbone of Quilling Cards
"When we design samples and other production components, we need them to be moved safely and on time, particularly when working on new projects with our clients," says Huong. "Quilling Card Vietnam has always given priority to providing excellent and responsive customer service, and for projects that require shipping throughout each stage of development, reliable and timely shipping is essential to keep the projects on schedule."
Additionally, design and product development is a largely collaborative effort between two teams on opposite sides of the world. To launch new designs and products effectively, and to continue fulfilling the company mission of preserving and sharing the art of quilling, both teams in the U.S and Vietnam need a reliable carrier.
"We have had FedEx as our logistics provider for a long time to handle our shipments so now it's a seamless process," says Huong. "They have a deep understanding of the local culture in every country in which they operate . I don't need to worry about
customs clearance processes
and procedures. Their digital tools provide
real-time tracking of shipments
and are convenient to use - helping us to deliver a good customer experience."
Preparing for what's next
Huong wants to promote a better image of Vietnam to the world. Quilling has been a famous art form in the world for centuries, but her businesses has succeeded in commercializing it for the first time.
She comments, "On the cultural side, we are preserving and sharing a centuries-old art practice dating back as far as ancient Egypt. We hope our future generations will continue appreciating it and carry on making the art".
For the right support for your business across Asia Pacific and beyond, discover our
dedicated e-commerce solutions here.
Related Posts
How Japanese Traditional Craftsmanship Is Finding Global Fans

FedEx Helps Filipino SME Go International with Filipino Culture

How An Indonesian SME Is Tapping Global Customers
Savvy Shipping
Tips To Help Build
Your Business

VISIT OUR SMALL
BUSINESS CENTER