How Homegrown SMEs Are Reviving The Philippine Weaving Industry
Woven CEO and Co-Founder, Trish Lim, weaves inspiration for Philippines-based artisans, bringing locally-made handicrafts to the global market.
In this fast-moving digital age, consumers around the world still desire the timeless allure of one-of-a-kind, handcrafted pieces. Recognizing this demand,
Woven
, a social enterprise that empowers artisan communities to build a livelihood from weaving and embroidery, curates a wide array of high-quality handicrafts made by Filipino craftswomen.
Inspired by the beautiful weaving tradition of Samar, Philippines, the founders of Woven are dedicated to promoting the exceptional craftsmanship and heritage of the Philippines to the rest of the world. Woven Co-Founder and CEO, Trish Lim, shares the company's journey in helping Filipina artisans thrive.
How did Woven Philippines come to be?
We launched Woven in 2017. The concept was formedwhile we were conducting a development study for a foundation after the disaster brought by Typhoon Haiyan in 2013. It opened our eyes to the reality of marginalized communities. We were sent to the hardest-hit town in Leyte, Samar, where we interviewed people about how their potential sources of livelihood had been affected by the storm, and we wanted to find ways for NGOs to support them. That's how we discovered the banig or mat weavers of Samar. This sparked the idea of starting a social enterprise in partnership with them. Our concept was to link them to a greater market, help them design, and provide opportunities for their livelihood.
Who are the people benefiting from this social enterprise?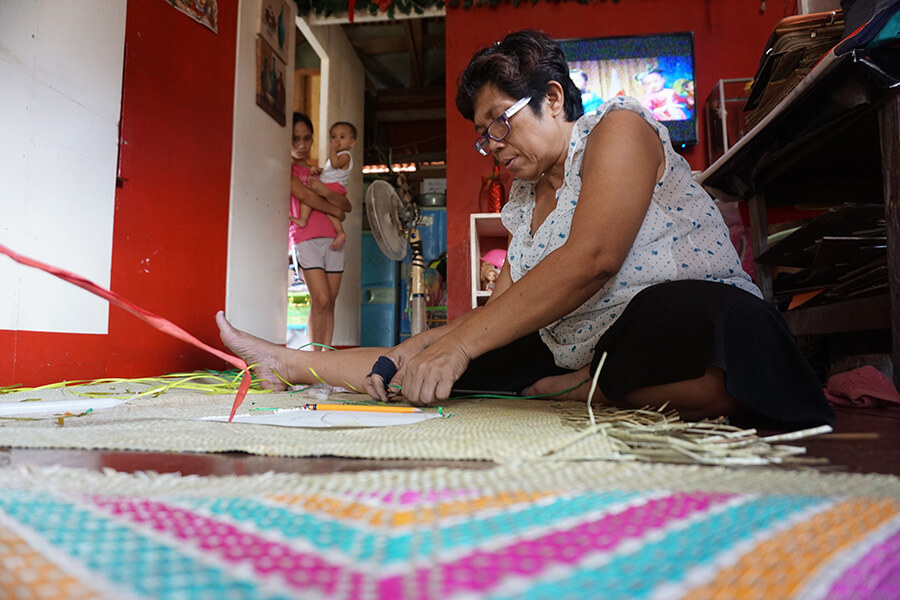 Our weavers are mostly 50-55-year-old mothers. Some of these artisans didn't want their children to continue the craft because it didn't pay well. Their average income at that time was P600-650 per month (US$ 11-12). We learned from different crafts communities in the country that a lot of artisans were in the same situation, so we expanded the reach of Woven by including other craft communities in other provinces. Now, not only do we have banig products from Samar but handwoven textiles from Benguet, placemats from Basilan, and blankets by hablon weavers from Iloilo.

Can you share more about Woven's products?

Originally, banigs were used as sleeping mats. To save a dying craft and keep up with the trends of modern fashion, we decided to cater to a younger age group and create products suitable for their dynamic, mobile lifestyle. Now, we make laptop sleeves, bags, and work-from-home essentials. We've also developed a line of home and lifestyle products that are vibrant and colorful; reflective of the Filipino personality and creative style.

How did your online store impact your operations and overall business?

Our website was launched in 2017. Before that, we were selling through Facebook and Instagram. The advantage of online selling is that you're always in touch with your customers. It's a good way to reach a wider market and engage different types of customers instantly. With our e-commerce site, our products can be shopped online in international markets - available from Asia to America and Europe.

How were you able to empower Filipino women through this social enterprise?

More than 95% of our Samar weavers are women. At Woven, we do everything we can to uplift the lives of our weavers and artisans. Through empathy, compassion, and persistence, we communicate with the weavers and encourage them to be open to growth so they can thrive in this industry or in any industry of their choice.

Growing up, I've been at the receiving end of the phrase "Kababae mong tao…" (You're a woman and yet…) and it impacted the way I saw myself and the roles I'm expected to play. I'm happy to be living in a more progressive period where we're able to explore the many facets of womanhood and pursue our different passions. But I know we still have a long way to go in terms of educating people and empowering the next generation of women. For those who want to go into entrepreneurship, my advice would be to pick good partners and mentors. It helps to work with women who believe in the same causes and with men who treat you as equals.

How does Woven keep the tradition of weaving alive?

As advocates of the craft, we want to preserve this tradition and pass it on to future generations. We launched "Kabataan Krafts" (Youth Crafts) - workshops for the children of the artisans we work with, helping to foster their creativity. Additionally, we want the community to consider weaving as a viable source of income for their family. That's why we helped organize associations and provide assistance in managing their own enterprises in Samar. Here in the city, we had an initiative called "Woven on the Move", where we brought weavers to Manila to hold a series of workshops for senior high school students. Our goal was to raise awareness of the centuries-old tradition of weaving among young people and at the same time, embolden our weavers to protect and preserve their craft.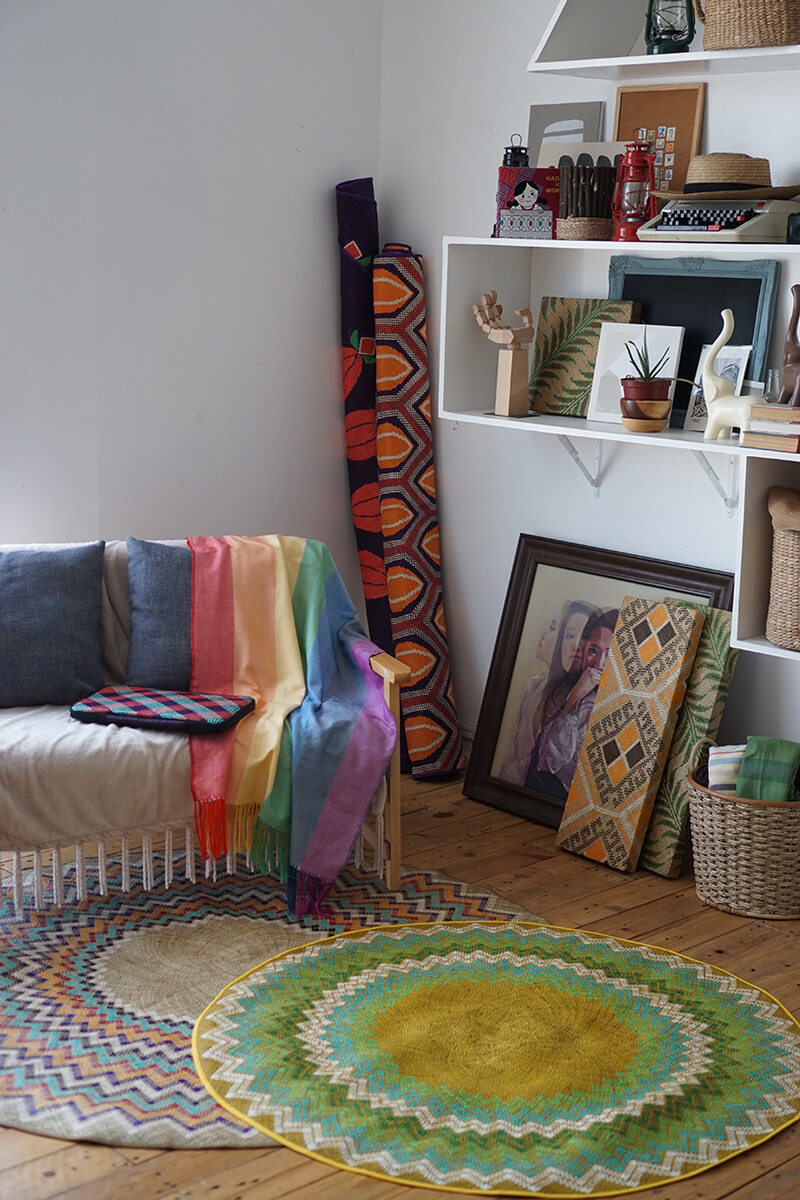 When did you decide that it was time for Woven's products to explore international markets?
During the pandemic, our communities were badly hit because there were no tourists. Bulk orders from companies, a major source of income for us, were significantly reduced, and mobility restrictions affected the procurement of supplies. So, we decided it was time to expand our market base and tap into other countries. Since then, we have seen growth in numbers and many global companies and entrepreneurs have expressed interest in marketing our products. We realized that going global entails strong logistics support to ensure that our products will be shipped on time and in good condition. We learned that FedEx is working with several local SMEs, and we decided to try them. Our account officer walked us through the process, the service, and the platform.
Being able to tell clients that we can ship products through FedEx is liberating. We can reach markets in South Korea, Taiwan, the United States, and Europe. We also ran a global marketing campaign in 202, collaborating with different artists who came up with their own woven creations. We wanted to send Banig weaving kits to customers as far afield as New York and Canada, and we were able to pull this off with FedEx.
Weaving Woven's purpose
Woven continues to launch various initiatives aimed at fostering creativity, collaboration, and leadership among the next generation of Banig weavers and embroiderers in the community. New products have been created and introduced to reach more diverse segments of the market. Through their products, Woven hopes to increase the public's awareness of the centuries-old tradition of weaving and have them become advocates of these artisan communities.
Finally, by continuously tapping the international market for these handicrafts, Woven empowers Filipino women artisans and handicraft communities to continue their colorful traditions while ensuring sustainable livelihoods.
Find out more about Woven Philippines' products at
woven.ph
. To
discover more inspiring small business stories, head here
.
Related Posts
Riding The E-Commerce Wave In The Middle East And North Africa

Young Entrepreneurs Leverage New Opportunities to Grow

Delivery: Are Asia's SMEs Doing It Right?
Savvy Shipping
Tips To Help Build
Your Business

VISIT OUR SMALL
BUSINESS CENTER