Charging Up For An Electric Future
Driving towards our goal of achieving carbon neutral operations by 2040, we've been busy testing and deploying zero-emission electric vehicles in some of the busiest cities in Asia Pacific, the Middle East and Africa.
Electrification holds the key to our future.
The world is rapidly transitioning to more sustainable solutions for transportation, while governments, businesses and service providers are all seeking greener ways to connect and power how people live and work.
FedEx has been taking solid actions on its journey to electrification. In 2003, FedEx set a record for being the first delivery company in the world to use hybrid vehicles for pickup and delivery. And way back in 1994, its first electric vehicle was operated – a lead-acid battery-powered vehicle - in California.
Since then, electric vehicle and battery technology have come a long way - so much so that it's expected that
by 2030 EVs will represent more than 60% of vehicles sold globally
. Traditional automakers are quickly pivoting to hybrid or fully-electric vehicles, and public transportation and service vehicles are being reinvented as we look at ways to drastically reduce carbon emissions worldwide.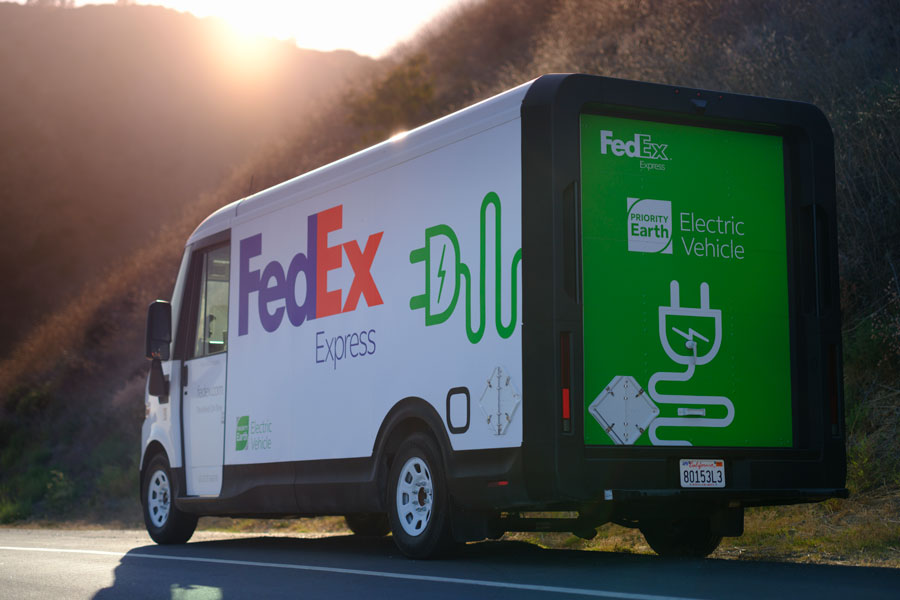 FedEx is committed to revolutionizing its sustainable operations over the next two decades, pressing ahead with an ambitious goal to be completely carbon neutral by 2040. This includes transforming its entire parcel pickup and delivery fleet to zero-emission electric vehicles by 2040. The company also plans to convert
50% of global pickup and delivery vehicle purchases to electric by 2025, increasing to 100% by 2030
.
But how can these plans be made a reality - and what do electric vehicle pickup and deliveries look like in cities and on roads? To start with, FedEx conducted trials and deployed EVs in key cities across the Asia Pacific, Middle East and Africa region to pave the way for future roll-outs, with the region's largest EV fleet in China.
Read on to find out more:
India presses ahead with electric vehicle options
Following the positive results of EV trials in India, FedEx deployed EVs in Delhi earlier this year. With a massive population and a reliance on road networks for inner-city transportation, India continues to address serious issues of urban pollution as a result of vehicle emissions. And these issues are set to intensify: by 2030, car ownership is projected to triple,
rising to 10.5 million car sales annually
.
While around 8% of total greenhouse gas (GHG) emissions in India are from the transport sector,
in Delhi, it exceeds 30%
. To tackle this issue, FedEx deployed 30 electric delivery vehicles in India that are each expected to help avoid more than 1.3 tons of carbon emissions annually. Electrification is critical to secure a cleaner future.
Last-mile delivery is on the rise thanks to e-commerce growth. Each new electric vehicle added to the FedEx delivery fleet in India reduces fuel consumption and emissions equivalent to five passenger cars.
Addressing last-mile delivery from Bangkok to Beijing
Elsewhere in Asia,
we introduced electric vehicles in Thailand
. Focusing on how deliveries in the heavily congested Thai capital can be made greener in future, we're taking another step in our l ong-term commitment to making the communities where team members live and work more sustainable.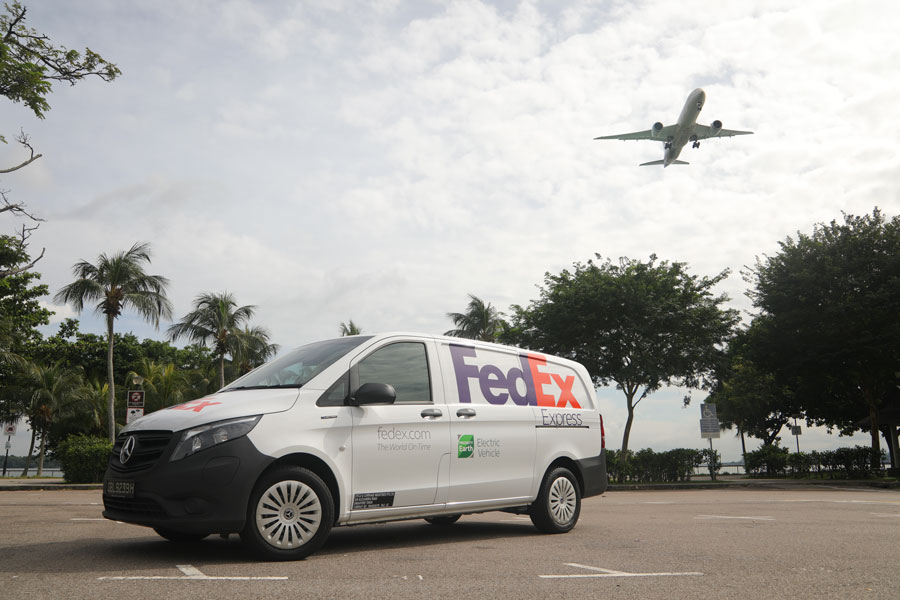 EVs have also been deployed in Tokyo, Japan since 2016. Zero-emission, all-electric vehicles are part of our pickup and delivery fleet that also includes hybrid and natural gas-fuelled vehicles. And they have been introduced to several other markets recently including Malaysia, Singapore and Taiwan, amongst others.
China is the largest EV market in the world, leading the entire Asia Pacific region in the innovation and adoption of electric cars. In many Chinese cities, you're just as likely to see drivers charging their EV batteries than filling up at the fuel pumps. FedEx operates 381 EVs in China, accounting for 13% of its local fleet.
Migrating towards electric deliveries in the Middle East And Africa
In the Middle East, governments and businesses are also coming together to frame the sustainability policies of the future. The United Arab Emirates has launched the
UAE Energy Plan 2050
, which aims to cut carbon dioxide emissions by 70%, increase clean energy use by 50% and improve energy efficiency by 40%.
FedEx continues to play a key role and recently completed an
electric van pilot program
in the UAE – further extending the reach of electrification efforts in the region.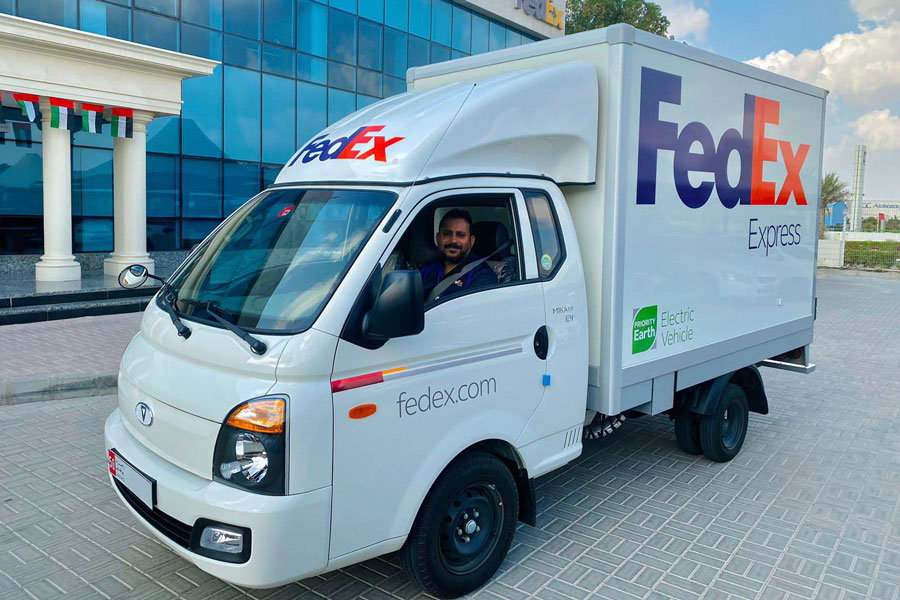 Using one-ton electric trucks that combine low-energy consumption and high performance, the EVs were used for parcel pickup and delivery across strategic locations in the United Arab Emirates.
This year, FedEx deployed its
first zero-tailpipe emissions electric delivery vehicles in South Africa
, as part of continuing efforts to reduce carbon footprint and promote sustainable logistics. These EVs are 'MAXUS eDeliver 3' and feature a delivery capacity of 240km on a full charge.
In other parts of the region, FedEx also introduced14 EVs in Jordan and e-cargo bikes in Morocco and Pakistan.
Electric vehicles provide a technologically advanced, clean, and smart solution for e-cargo mobility. The trials we have run across the region and globally are a critical pathway to fully integrating electric vehicle technology across operations. Finding the right technology to serve the business, its customers, and team members is a priority.
Electrification benefits more than just the environment
The environment isn't the only beneficiary of vehicle electrification. Future EV fleets can improve delivery for:
Communities: Reduced emissions will mean more livable urban spaces and residential neighborhoods, with lower carbon emissions positively impacting health and reducing noise pollution.


Couriers:The safety and comfort of drivers can be enhanced with EVs thanks to seat and steering wheel ergonomics, 360° camera, single pedal driving and a quieter, smoother delivery experience overall. EV trucks also have a longer anticipated lifespan than diesel trucks due to fewer moving parts.


Customers:Zero-emissions deliveries means a lower carbon footprint for your businesses, allowing you to offer a more positive customer experience that aligns with their values.
These sustainability goals are ambitious. With
more than 200,000 motorized vehicles in its fleet
, FedEx recognizes its responsibility to reduce carbon emissions. A phased approach to vehicle electrification is a crucial part of our roadmap to contribute to a greener world.
By making the move to all-electric delivery vehicles, the logistics and transportation sector as a whole can help advance emissions reduction goals.
As the world pushes for more sustainable practices, businesses also need data-driven insights to inform their ESG strategies. An innovative tool they can take advantage of is
FedEx® Sustainability Insights
, which uses near-real-time FedEx network data to estimate CO2e emissions. FedEx customers can also download reports to access information they need to gain better visibility of emissions within their supply chains and support reporting and strategic future planning.
For more information on our global electrification program,
head here
.
For more sustainability stories and trends across Asia and beyond,
visit our Sustainability page
.
Related Posts
4 Ways Asia SMEs Can Build Sustainable Communities

E-Tailers: Sustainability Matters To Your Customers

Greening The Supply Chain To Combat Climate Change