4 Innovative Small Businesses Driving Change
Four rising start-ups have proven that you don't need to be big to drive meaningful change and innovation in the digital and e-commerce space. Discover more about the finalists of the 2022 FedEx Asia Pacific Small Business Grant Contest (SBGC).
Rising start-ups that successfully adopt new technology to improve lives are an inspiration to us all. Whether it be streamlining an online purchase or making critical life support equipment accessible, these four inspiring companies stand out. They've been recognized for how they leverage technology to thrive in the new normal—driving operational transformation, generating exponential growth, and elevating customer well-being.
1. GoKwik, India: Simplifying marketplaces, maximizing conversions, minimizing returns
The winner of this year's top honors, e-commerce start-up
GoKwik
, was born during the pandemic. The company was founded in 2020 with one simple mission: to democratize the shopping experience.
"When the pandemic hit us, consumers started to shop directly [online] from direct-to-consumer (D2C) websites," says Chirag Taneja, Cofounder and CEO of GoKwik. It soon became clear that customers' online experience was inconsistent, especially on things like product selection, checkouts, refunds and returns. GoKwik set out to use their tech and data science capabilities to solve these problems.
By leveraging AI and machine learning software, GoKwik was able to streamline online checkouts, minimize product returns by automatically correcting addresses, and improve checkout conversion rates by fine-tuning the order-confirmation process.
To date, the system has been used by more than 500 merchants and engaged over 80 million shoppers in India, generating more than US$1 billion in gross merchandise value. The company, which currently employs more than 150 staff working remotely out of 47 cities in India, is now working to expand its distribution globally over the next five years.
2. magAssist, China: Saving lives with artificial organs
Founded in 2017, medtech start-up
magAssist
is focused on developing cutting-edge technology and products, such as a ventricular assist device, more commonly known as an artificial heart. The company's product, MoyoAssist, functions as a heart outside the human body, providing life support to patients with critical heart failure. MoyoAssist uses magnetic levitation technology and computational models to ensure sufficient blood flow and prevent blood clots.
"MoyoAssist is our first product, and it's still at the clinical trial stage," says Hsu Po-Lin, Founder and CEO of magAssist. "Compared to our international competitors who are huge companie, as a start-up magAssist can act and move very quickly to leverage new technology in our products."
MoyoAssist has already proven itself in the field. In June, a hospital in China's Shanxi Province used the device to successfully treat a patient in cardiac shock. In Wuhan in 2021, the device was also used to provide life support to a patient awaiting heart surgery.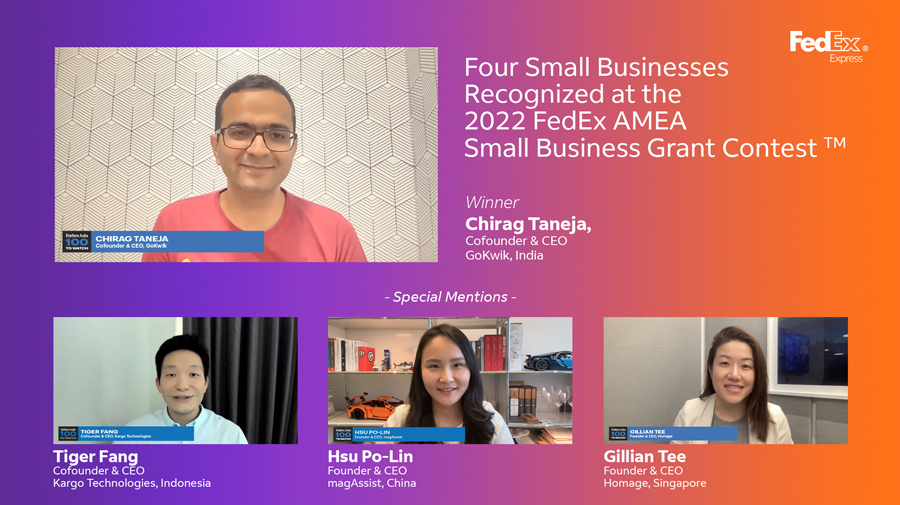 3. Kargo, Indonesia: Uber for trucks
Indonesia-based
Kargo Technologies
is working hard to bring down logistics costs. Since its inception in 2018, the company has onboarded 80,000 trucks and 30,000 shippers onto its digital platform, which connects shippers with transport and truck owners. And while 80,000 trucks may sound like a lot, it represents barely 1% of the total number of trucks in Indonesia, reveals Cofounder and CEO Tiger Fang.
In Indonesia, the company has built a reputation as the "Uber for trucks." Indeed, the team behind Kargo were also involved in setting up Uber in Indonesia in 2012. Despite some obvious overlaps, Fang is quick to reassure that passenger transport and cargo transport are two entirely different concepts, and copying a successful business model, whether it be from the U.S., China or India, was no guarantee of local success.
"There are 26 different heads and tails of trucks used by different companies and industries here," explains Fang. "We need to make sure the right truck goes to the right customer, at the right time, and for the right price."
Over the next five years, Kargo aims to bring one million trucks onto the platform. "Trucks are still going to be used over the next hundred years to move cargo and freight all over Indonesia," adds Fang. "And we hope to be the digital infrastructure and operating system for how goods are moved in this country."
4. Homage, Singapore: A digital platform of caregivers, nurses and doctors
Homage
is a healthcare services platform that aims to help adults and the elderly obtain prompt and personalized medical support through its network of more than 15,000 licensed caregivers, nurses, therapists and physicians.
Homage is currently operating in eight cities, and services rendered include doctor consultations, in-home living assistance, rehabilitation, and specialized treatment for conditions like Parkinson's disease and dementia.
"Currently, we're the only platform that combines personalized care planning with care-matching and service delivery, powered by digital payments and integrated with hospitals and government providers," explains Founder and CEO Gillian Tee. "This service-delivery integration with logistics infrastructure, combined with the largest pool of carers, is why we are a category leader in the long-term care space."
Tee's five-year plan for the start-up include growing its pool of care professionals to be the largest in Asia Pacific, and expanding its sphere of operations by 10 cities.
Supporting transformative start-ups
As a long-time
advocate for small businesses and start-ups
, FedEx understands intuitively just how much of global trade is driven by small businesses—and why it is vital that promising start-ups get the
support and resources they need
.
For winning the top prize at the 2022 FedEx Asia Pacific Small Business Grant Contest, GoKwik receives a cash award of US$30,000 from FedEx Express, while the remaining companies receive a special mention along with a cash prize of US$13,000 each.
Entrepreneurs like these are shaping the future of business. In the past, we've seen the winners of our competition take their businesses to the next level with the help of a FedEx grant. That's what we are passionate about—giving small businesses the right resources, tools and solutions they need, while remaining a trusted advisor to help them accelerate their business on the global stage.
To find out more about the Small Business Grant Contest,
head here
.
A
version of this article
first appeared in Forbes Brandvoice on December 21, 2022.
Related Posts
Small Companies Are Taking On The World

Unlocking The Innovation Potential Of Singapore's Small Businesses

AI Is Powering How Small Businesses Find Talent In The Philippines
Savvy Shipping
Tips To Help Build
Your Business

VISIT OUR SMALL
BUSINESS CENTER