How To Safeguard Your Small Business Against Risk
To deal with the unexpected, it's important to be proactive and pragmatic.
In business, nothing is ever certain. Companies are increasingly faced with new global threats, whether from climate emergencies, economic recessions, health pandemics or cyber-hostilities. To mitigate the effects of events beyond your control, preparedness is more important than ever.
People, Processes, Pipeline
There are three major factors entrepreneurs and business owners should try to iron out in preparation for the road ahead.

People:

It's easy to be a supportive, thoughtful employer during periods of fair weather. But don't let your employees drop down the priority list when crisis hits. More than ever, you'll need their continued support to maintain output and steady the ship.

So, be flexible. If the office is a no-go, offer alternative locations to frontline employees unable to work from home. Consider staggering returns to work, and make sure a support team is on hand to provide access to company documents, VPNs, laptops and other tech so that temporary workstations can be established for employees remotely. Be ready to offer emotional support, too, for those that need it.

Processes:

Technology can be a blessing or a curse. The middle of an escalating crisis is not the time to discover your networks are outdated or vulnerable. Systems should be portable; ready to accommodate employees who need to work remotely and are unable to report in person. Customer orders or requirements that are usually fulfilled offline should be easily replicated online.

Pipeline:

Your logistics company has a responsibility as your order fulfilment partner. Have a quick discussion on the robustness of your logistics company's supply chain. This will help you better understand their capacity to take situational control, minimizing disruption to you.

Create a simple checklist that takes into account their worldwide connections, reliability, variety of shipment options and flexibility for change.

Finally, there's no such thing as over-communicating. From investors to customers to employees, don't wait around to update your stakeholders and allay concerns.

Failed to prepare? Prepare to fail! It's usually too late to start thinking about plan B when an unexpected event hits, but it's better late than never. At the very least, use the current crisis as a lesson to start preparing for the next.

Check out the infographic below for more tips on how to safeguard against risk.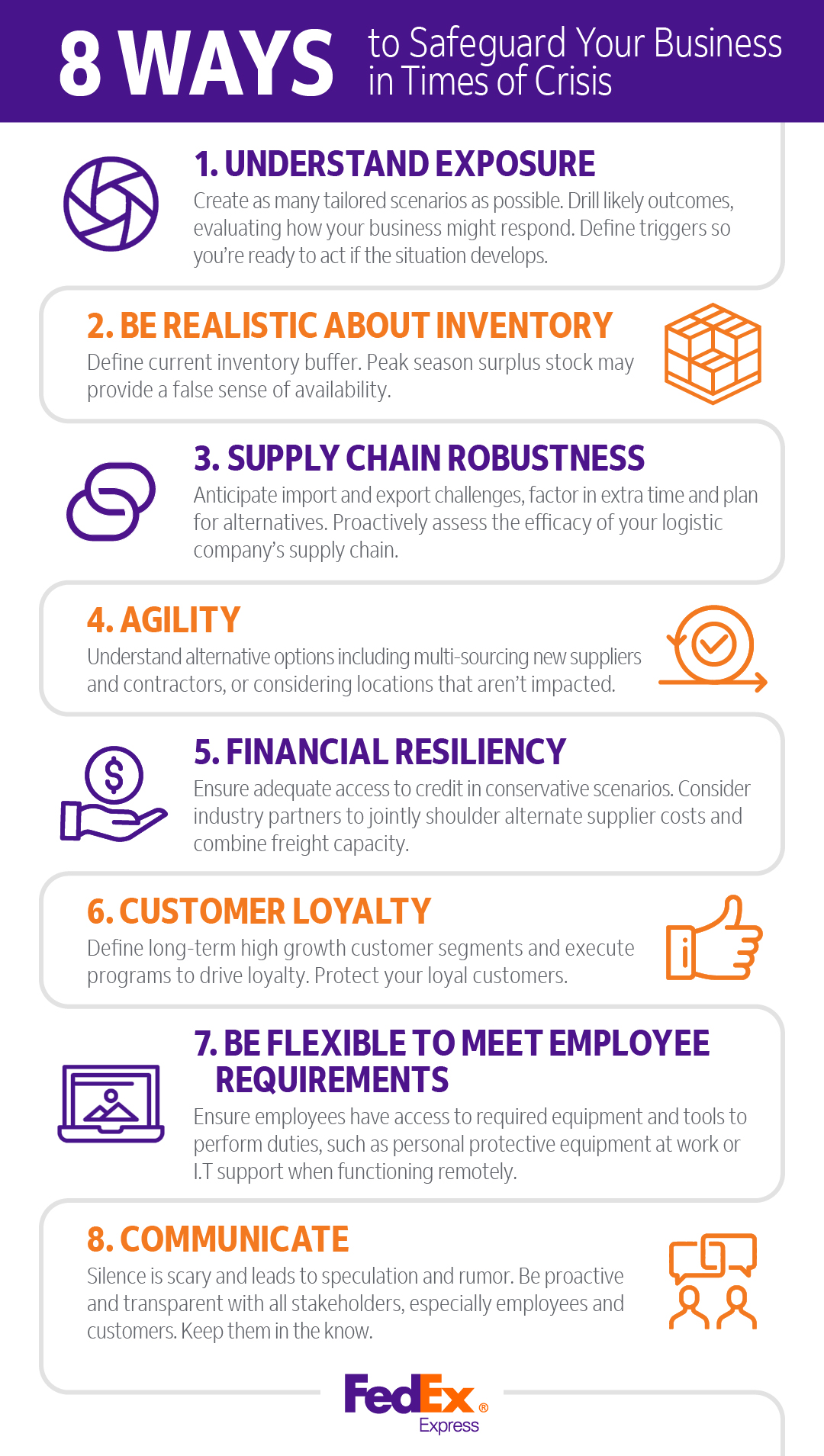 Follow FedEx APAC on LinkedIn for regular insights on how to boost your small and medium business.
Related Posts
7 Business Solutions In Response To COVID-19

Today's Business Movers: Lessons On Running A Small Business

Dealing with Disruption: Are SMEs Business Ready?
Savvy Shipping
Tips To Help Build
Your Business

VISIT OUR SMALL
BUSINESS CENTER