The Future Is Knocking
Learn more about the work we're doing with Roxo™, the FedEx SameDay Bot, our first autonomous delivery bot prototype.
There are moments during your working life that feel really special. Times beyond the ordinary, when your business or company is on the cusp of great change or innovation.
Think about how you've experienced this. It could be a show-stopping new product roll-out or a groundbreaking partnership - catapulting your business to the next level. Maybe it's global expansion or a prestigious accolade or award. Working on such breakthrough projects can be immeasurably rewarding.
I've seen a lot of exciting change in my time at FedEx. But one of the most exhilarating milestones I've witnessed in my 25-years with the company? It's got to be the development of our first prototype autonomous delivery robot,
Roxo™, the FedEx SameDay Bot.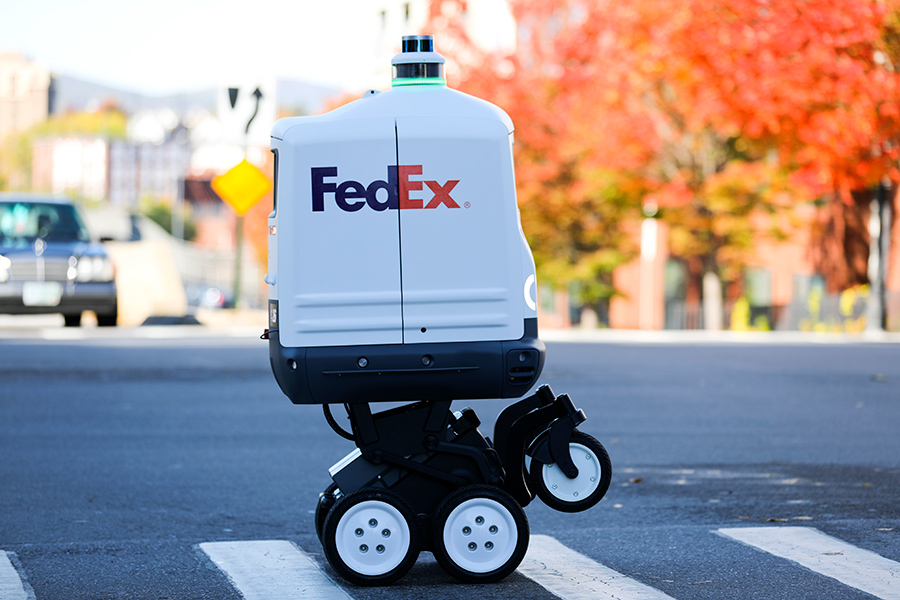 From future-forward to a tech-driven future
It's been fascinating to watch our company's accelerated involvement into technology and innovation. Years ago, when people thought of FedEx it was trucks on the road and planes in the sky. Now we have
cloud-based partnerships with Microsoft
and
industry leaders in machine-learning and AI as part of our staff
enabling us to research and develop robotics and automation. And it's very clear that there are so many challenges faced by our urban environments that robots and automation can solve. Everything from safer, cleaner streets to more streamlined manufacturing and production processes to automated customer service and a more positive environmental impact. Many battery-powered or rechargeable robots can replace traditional machines that rely on less sustainable fuels or power sources.
Meet Roxo™, the FedEx SameDay Bot
So who is Roxo? Let me introduce you! Our autonomous delivery robot has been developed as a same-day last-mile logistics solution in urban and suburban areas. Roxo is able to interpret environment – such as when to stop at a traffic light or avoid obstacles – and has been tested on streets in the U.S since 2019.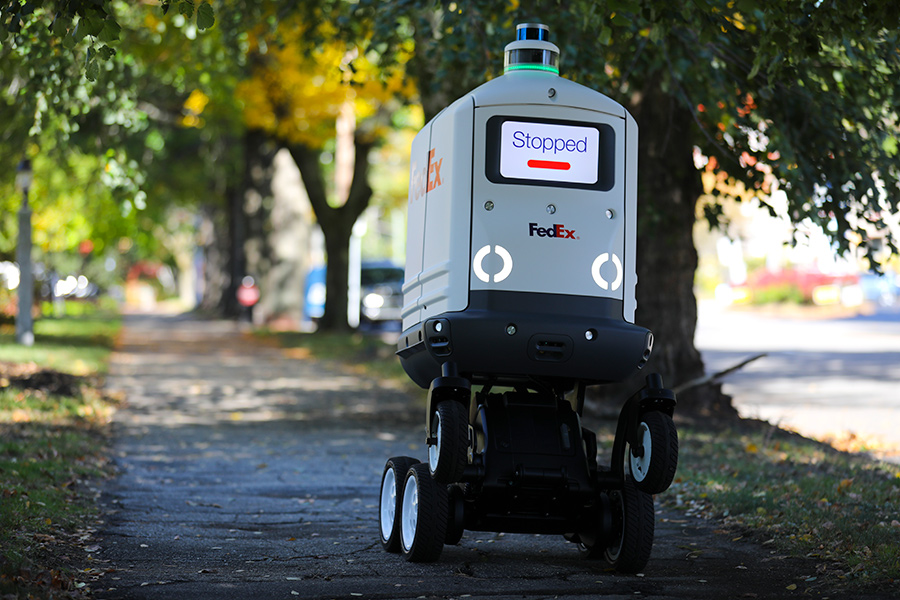 The idea is simple. A customer orders a small item from a local merchant and – Roxo can deliver it right to a customer's door within a 3-5 mile radius. Naturally, this takes some work: after all, no 2 sidewalks or driveways are exactly the same. Roxo can navigate slopes, deep steps, interpret traffic crossing signals and even mount curbs – everything necessary for an urban journey from point A to B. Roxo is still in the testing phase and won't be spotted on a street near you just yet. But watch this space…
Where now meets next: Roxo is making his way to Japan!
As an engineer myself, it's been a thrill to watch Roxo's journey from ink on paper to a zero-emissions prototype that can deliver in pedestrian areas. And there's a new twist to the story.

Roxo is embarking on his first-ever trip to Asia! This summer, our same-day bot will visit Japan!

This has been a genuine team effort and a long time in the making. Roxo's arrival in Asia against the backdrop of COVID poses many challenges, from moving expert tech personnel across the world to an ever-shifting travel landscape.

Japan, of course, feels like an appropriate homecoming for Roxo. Japanese society has famously embraced robots in a big way, and the region is at the forefront of the integration of robotics into customer service and consumer culture.

But let's not forget the rest of Asia: a hugely diverse region of testing climates and extreme weather events; densely populated cities; unique public transport and varied terrains. No small challenge for an urban delivery bot.
The bottom line? We're excited for the future of innovation in Asia
Asia has long been a dynamic breeding ground for SMEs and driver of the entrepreneurial business culture that makes global trade what is it is today. Asia Pacific also remains a world leader in the development of smart, sustainable cities.
One thing's for sure: when we look at what's next for Roxo in Asia-Pacific, it feels like innovation has landed in the right place.
For more news and stories around Roxo and the future of logistics, keep an eye on our
LinkedIn page.
Related Posts
Meet Roxo™, the FedEx SameDay Bot

The Rise Of The Sorting Robots

Combining Robotics And Logistics