Following In My Mother's Footsteps At FedEx
Inter-generations working at the same company are nothing new. At FedEx, many young people follow parents into the workforce, strengthening family bonds and creating resilient working relationships.
The first lessons we learn are usually from our parents. These lessons propel and inspire us through our personal and professional journey. In that vein, it comes as no surprise that in many walks of working life, we encounter people who join a family member in the same profession or organization.

At FedEx, we see new recruits following in the footsteps of a parent when they start their career here. Family members don't always work side-by-side in the same functions, but access to shared experiences and knowledge helps them to thrive.

Ahead of Mother's Day, as we celebrate inspirational working moms across Asia Pacific, the Middle East and Africa, meet the sons or daughters following in their footsteps to forge successful careers of their own.

Meet: Brenda and Olivia Ramsay, Australia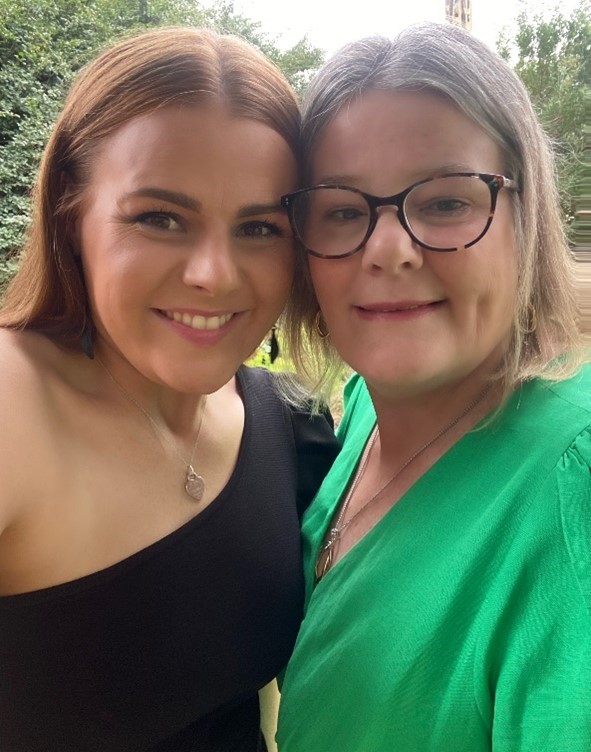 Brenda and Olivia are a dynamic force to be reckoned with! Brenda, who joined in 1980, has worked for FedEx for an astonishing 40+ years. Since Olivia joined around five years ago, the two travel into work together, gearing up for the day ahead with "karaoke in the mornings to wake us up ready for a day in the office!"

They enjoy their interactions at work as it means a learning curve for them both.

"Coming from different departments shows why the company runs smoothly when everyone works together."

What's most inspiring about their story is their bravery and positivity in the face of adversity. "Over the past year, my mum was diagnosed with breast cancer and was in and out of the office or working from home a lot. While she was being treated, the support from our teams was exceptional. It was reassuring to know that I was able to take time away from my job and care for her when she really needed it."

Brenda, leading by example, started when Olivia was young: "Throughout my childhood I have always been encouraged by my mother to take every opportunity, learning and growing from my mistakes. We bounce off each other's knowledge and energies to strive for better in everything we do!"

Meet: Lulette and Josh Aragon, Philippines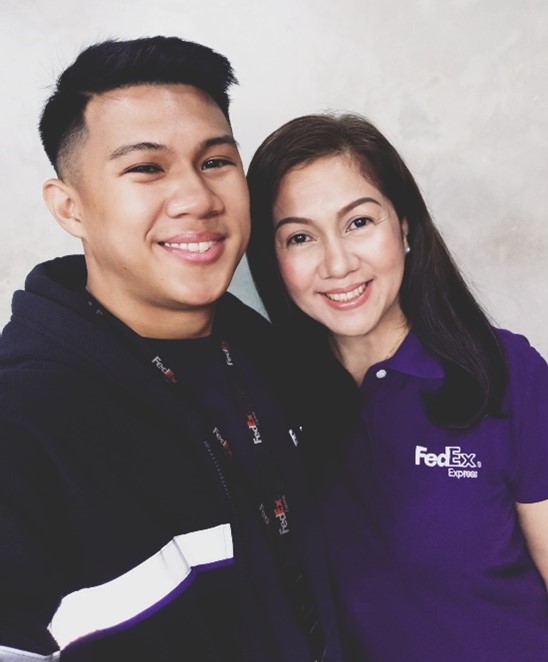 Lulette has been with FedEx for over nine years and her son, Josh, joined over a year ago. The best thing about having each other as work colleagues?

"We now share another thing that we love, and that is FedEx", shares Josh. "We enjoy conversations about work, and since we're in two different fields, we're able to give each other insights into how FedEx operates as a whole."

Lulette uses her many years of expertise to remind Josh where to be diligent. "I usually remind him to practice utmost care during goods handling. I also tell him to keep an eye out for trainings to further improve and gain extra qualifications. Mothers know best!"

Meet: Lorraine, Lauren and Sophie Hammond, Australia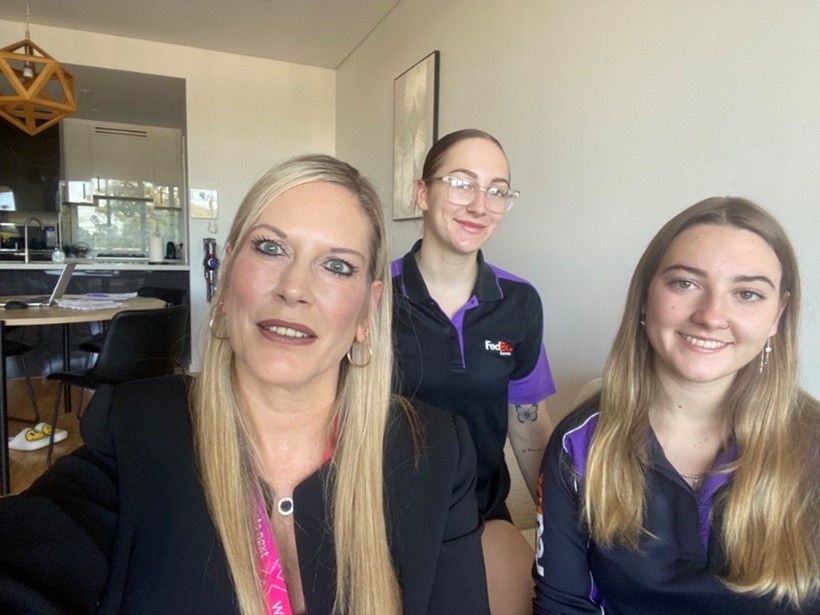 Lorraine, who works in the FedEx Sydney HQ, was joined by not one, but two of her daughters, who both started as soon as they graduated high school.

They value "knowing that we all support and respect each other as colleagues as well as family members. When there are challenges, we advise each other. We also motivate one another to strive for our goals where there are opportunities to progress within the company," says Lorraine.

What's been rewarding is that all three have different skills and interests. Lauren is passionate about Diversity, Equity and Inclusion (DEI) as well as mentoring others. Sophie has spent time learning about the Customer Experience aspect of the business and using it to train colleagues in her department. One thing they all have in common? Involvement in charity work and wellbeing: getting involved in causes and initiatives that make a difference in the community.

Meet: Nela Azevedo and Vanessa Lume, South Africa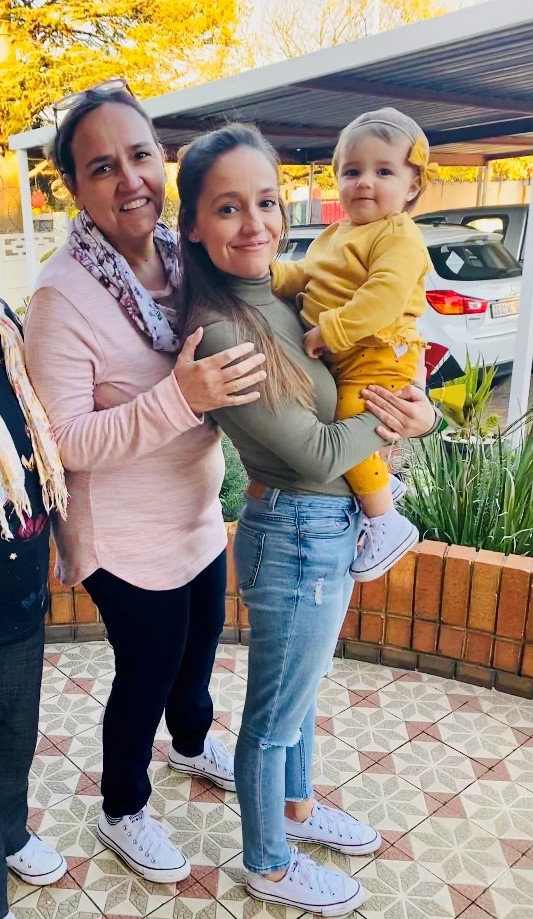 Just like the Hammonds, Vanessa followed in her mum's footsteps and joined FedEx straight from school, starting in customer experience the day after completing her last university exam. Vanessa believes the best thing about having Nela as a colleague is "the support and motivation we can offer each other during our daily encounters. Getting to see your mother every day after moving out and starting your own family is great!"

They run ideas past each other daily. Having worked for FedEx for 18 years, Nela has plenty of wisdom and experience to impart, but knowledge-sharing works both ways.

"We are both very strong women and have different views on life but what we share is a passion to achieve the best," Nela states. "We both go the extra mile and encourage each other to think outside the box. Vanessa pushes me on a daily basis to get tasks completed in smarter ways. She finds quicker and more efficient ways to get things done - so helps me out with technology!'

One thing they both value is working for an organization that is family-centric. "As a new mom myself, I'm truly grateful to work for a company that not only values you but puts your family first," Vanessa explains. What's next for the family? Vanessa hope that her baby daughter, Ariana, will consider FedEx when she is all grown-up.

"Hoping we have a third generation join us in the future!"

Meet: Vaishali and Amol Dharadhar, United Arab Emirates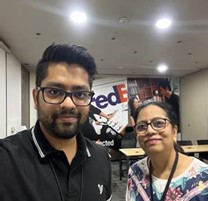 When asked why having a parent as a colleague is a benefit, Amol puts it like this:
"If you think about it, when you get good news, often the first person you want to call up is your mom, who is your constant cheerleader in life. But I get to work on building my career with her and sharing successes with her first-hand, too."
Vaishali's 23-year career included being a single mother, and she valued the flexibility for working parents, saying "I was always able to have time with my children watching them grow up into young adults. Now I get to spend even more time with my son working in the same company!"
They keep each other motivated by catching up for lunch or taking walks together. "Short breaks together really help rejuvenate the mind for the rest of the working day."
A strong workplace culture leads to personal fulfillment
So why do we follow our parents into work in the first place? These stories teach us the value of young people seeing workplace culture first-hand through the eyes of their parents. Gaining insights – the inside track – into a company's values can help team members make an informed decision on taking on a role. Quality time together is also extended and enriched.
At FedEx, our business is built on our people. The happier and more fulfilled we all are at work, the better the experience that we deliver for our customers.
For more behind-the-scenes stories and insights,
visit our LinkedIn page now
.
Related Posts
Breaking Gender Bias: Meet The Women Of FedEx

How Female Entrepreneurs Can Overcome The 'She-cession'

How To Build Diversity, Equity, & Inclusion At Your Small Business