Delivering For Good: A Journey To China
At FedEx, we are committed to delivering possibilities for businesses. But we also deliver hope by supporting humanitarian aid where it's needed most.
FedEx has been working with non-profit and government entities to support communities and economies during times of crisis.

As part of the FedEx Cares 'Delivering For Good' initiative, FedEx has been providing relief support to people impacted by the outbreak of coronavirus in China in the past month. We are working with the humanitarian aid organizations and mobilizing our global network to help deliver critical supplies to people suffering from this health crisis.

Up to February 20th, FedEx has delivered 8 charitable shipments on behalf of Direct Relief from the U.S. to China.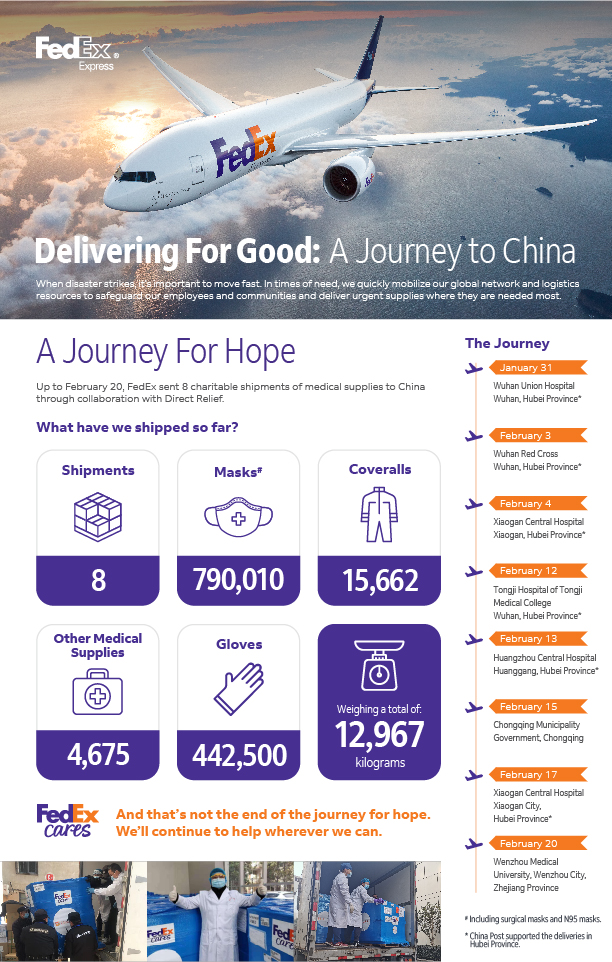 FedEx will continue to work closely with humanitarian and disaster relief organizations to provide support and deliver supplies, doing what we do best to help those who need it most.

The delivery of these critical supplies is part of the company's FedEx Cares 50 by 50 goal to positively impact 50 million people around the world by the company's 50th anniversary in 2023. For more information on the company's Delivering for Good initiative, click here.
Related Posts
Top 8 Most Unusual Things We've Ever Shipped

The Impact Of Technology On The COVID Vaccine Supply Chain

Care And Co-Operation Amidst The Coronavirus