Combining Robotics And Logistics
In Japan, we know that combining technology and transport enhances the future of delivery – and robotics and automation are the key.
Every year, the number of industries and companies developing robots increases. Here in Japan, we are very much at the forefront of this drive for robotics innovation. Alongside other Asia Pacific countries like China and South Korea, Japanese adoption of robotic tech – as well as manufacturing – is on the up.
And of course, the pandemic birthed a rise in consumer concern for contactless activities as well as need to safeguard human life through automation of in-person jobs. What's also interesting is how demand for robotics has shifted. In recent times, robots have been used in great volumes for manufacturing – in aviation, automobiles and many other products on the factory floor.
But the demand from the service sector is predicted to overtake manufacturing, growing by over 13x
.
The logistics industry, of course, is a natural fit. The increased efficiency of existing transport operations is an obvious benefit. But the widespread use of robotics will lead to a new kind of value creation as we move towards a better society and future.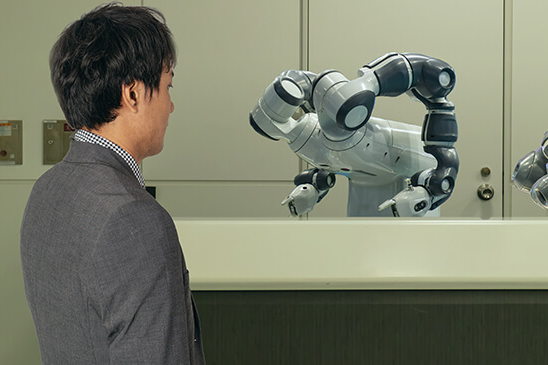 Benefiting the communities of tomorrow

The time for robots to start providing logistics services directly to end users is only just beginning. Still, considering future innovation is an exciting prospect. One potential way of providing new value is to build a local delivery network that supports people and communities through inter-industry collaboration.

To begin with, bases or hubs for delivery robots could be established in locations with clusters of retailers, such as malls or shopping streets. Retailers can drop off goods purchased by neighborhood residents at the hub, and the robots can deliver the goods to end customers. A diverse mix of business operators could engage delivery robot services. And it's these collaborations between diverse retailers and logistics services that will provide more options and better convenience for consumers. In Japan, we truly believe that such services offer smart, well-suited solutions to problems stemming from Japan's aging society.

Supporting people and scaling up workforces

Robotics could also solve some of the labor shortage problems that have plagued the logistics industry in recent years, heightened by the pandemic. It could fall to robots to take on monotonous or lower-value tasks, freeing up employees to do jobs that require more nuanced knowledge and deeper experience. We're seeing that already in some of our newly adopted tech – such as DoraSorter, an autonomous sorting robot, in China.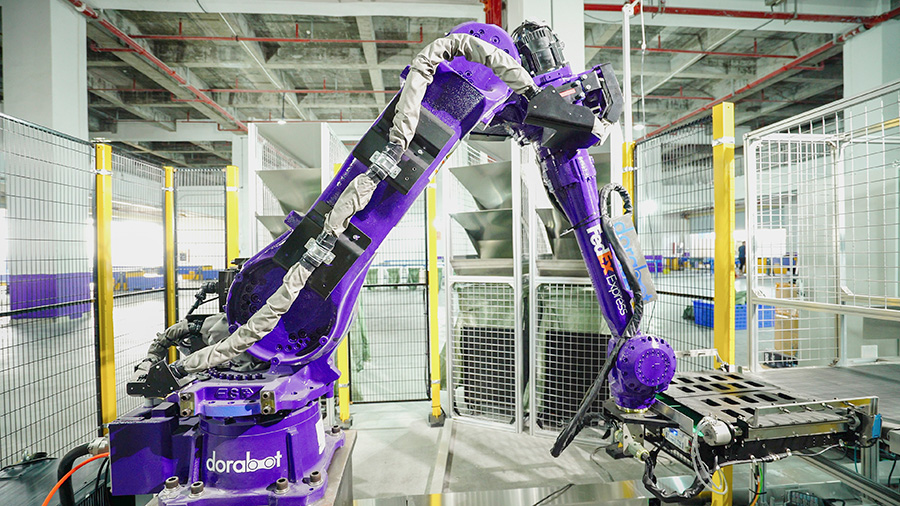 DoraSorter can speedily sort packages straight off the conveyor belt and place them, ready-sorted, for where they need to go. We're hoping to roll out similar technology right across Asia Pacific as we look to improve efficiency for our customers in all areas of our service.

A win for the logistics industry

Naturally, these changes will help to upgrade work environments within the logistics industry and enhance job satisfaction too. Even highly skilled jobs directly related to the robots themselves will be in demand, such as the development of robotics and managing or controlling them effectively.

Additional benefits include optimized management resources, improved service quality and enhanced customer experience – a winning formula all round!

Robots at FedEx

At FedEx, innovation has been in our DNA, and we have been proactively introducing the latest technologies wherever we can. Part of our journey is towards robotics.

In the USA, robots are already used in our logistics facilities and offices. In 2018, we introduced an autonomous tagger to transport shipments too large to load onto our sorting system. It learns the floor layout of our hubs and warehouses, and built-in sensors enable it to navigate complicated pathways safely and efficiently.

For Asia-Pacific, our goal is to start migrating these same technologies to regional facilities that are ready to utilize them, starting with Japan.
Acceptance and a new norm
Communities at all corners of the globe are beginning to get used to seeing robots in action, from schools to airports to hospitals. Some people may feel uncertain about how to interact with robots, or have safety concerns. And yet, it's important that robotics be accepted widely. Familiarity – ubiquity even – will be key to mainstream acceptance. Once widespread, we can all look forward to greater business efficiency as well as an enriched quality of life for societies everywhere.
With sci-fi in cinema and graphic novels, robots have long captured our collective imagination across popular culture in Japan and beyond. Now it's time for real-life robots to command the attention of consumers and businesses everywhere as they make our lives safer and convenient and our business models streamlined and future-proof.
Stay tuned as we continue to embrace and pioneer emergent tech in Asia Pacific for our customers. Keep an eye on our LinkedIn page
here
.
Related Posts
The Rise Of The Sorting Robots

The Big Tech That's Shaping Tomorrow – Today

Digitalization Of Logistics –
A Gamechanger For SMEs